Here Are the 4 Best Moments From Rami Malek Hosting SNL
The Oscar-winning actor showed off his comedy chops in the best episode of the season so far.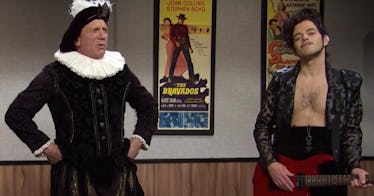 Saturday Night Live has been off to a strong start this season and that continued over the weekend with Rami Malek taking on hosting duties to promote his villainous turn in the latest James Bond movie, No Time to Die. Malek proved to be up to the tough task of hosting SNL and delivered perhaps the funniest episode of the season so far. Here are four of the best moments from the show.
Monologue
Malek was charming, if not outright hysterical in his monologue, as he was clearly very comfortable working the crowd and showed that he was taking his hosting duties seriously. He acknowledged his "resting villain face" and admitted that he's always sympathized with the bad guys, even going as far as saying that he's "Team Scar" when he watches Lion King.
"I actually found Simba to be kind of annoying," Malek said.
He also spoke about how he still can't believe he gets to be in movies, explaining that as the child of Egyptian immigrants, the idea of being a movie star never even crossed his mind. In fact, the prospect of making it in Hollywood felt so far away due to his sheltered childhood that he didn't even realize his home in San Fernando Valley was only 10 minutes away from where movies were made ("Three hours with traffic," he joked).
Mattress Shopping
My favorite sketch of the show was a simple premise that was just the right amount of absurd: a couple (played by Malek and Aidy Bryant) "test out" mattresses by doing increasingly bizarre role-playing that included them fighting after he was "acting weird" at a party and them fighting off an intruder with their "killing gun." Malek and Bryant were clearly having a blast getting to go all-out and Bowen Yang was perfect as the extremely confused mattress salesman.
Prince Audition
Malek's best-known role may be playing Freddie Mercury in Bohemian Rhapsody, which won him an Oscar. And SNL had some fun with this by having him audition to play Prince. He's in competition with Kenan Thompson for the role and while Malek jokingly tries to argue that Prince "transcends race," the people casting the movie are much more skeptical.
It's a funny premise but what makes the sketch go from "pretty good" to "one people will be talking about all week" is Daniel Craig popping up as a guy who misunderstood what role he was auditioning for. Craig has proven himself game as an SNL host in the past and he once again delivered laughs in his brief appearance, even pulling off a halfway decent Price impersonation despite being dressed as mediaeval prince. Craig also appeared in the 10-to-1 sketch Angelo but he was given a lot more to do here.
Rami Wants a Treat
Honestly, one of the highlights of this week's SNL didn't even make it into the episode, as the newly-hired writing group Please Don't Destroy showed off their dumb smart sense of humor with a sketch about Malek throwing a temper tantrum when they won't give him enough treats as a reward for him doing such a good job hosting. It ended up getting cut for time but can be seen online. It's extremely silly and hilarious and exactly the kind of humor the show has been lacking the last few years. Malek is clearly having a blast getting to play an petulant, idiot diva and hopefully, Please Don't Destroy don't end up in the same position as Kyle "Cut For Time" Mooney.