Everything We Know About That Wild Harry Potter HBO Max Reunion
Guess who won't be there.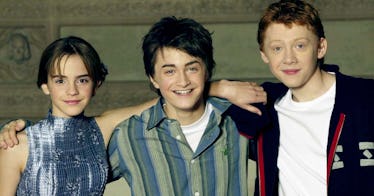 Want to feel old? It's been 20 years since Harry Potter and the Sorcerer's Stone first hit theaters and to celebrate the anniversary, the gang is getting back together for a totally awesome reunion that will air on HBO Max. Here is what we know about Harry Potter 20th Anniversary: Return to Hogwarts so far.
The anniversary special will air on January 1, 2022 on HBO Max and Daniel Raddcliffe, Emma Watson, and Rupert Grint will all be appearing, along with other cast members (including Tom Felton, Helena Bonham Carter, and Ralph Fiennes) and Chris Columbus, who directed Sorcerer's Stone and Chamber of Secrets. The biggest name who won't be appearing is J.K. Rowling, who, of course, is the mind responsible for the entire Wizarding World.
So what exactly will we get to see in Return to Hogwarts? As the name implies, it seems like it will be a massive retrospective that will feature behind-the-scenes footage and current-day interviews that look back on the journey of making one of the most beloved movie franchises of all-time. Executive producer Casey Patterson said the special will be "a tribute to everyone whose lives were touched by this cultural phenomenon – from the talented cast and crew who poured their heart and soul into this extraordinary film franchise to the passionate fans who continue to keep the Wizarding World spirit alive 20 years later."
And the spirit of the Wizarding World is indeed as alive now as it has ever been, with Harry Potter proving to have a cultural staying power that is reserved for a select few franchises, like Star Wars and Lord of the Rings. Even with Rowling continuing to be criticized for her comments about the trans community and the Fantastic Beast spinoffs failing to spark much magic, the original series has a deeply loyal fanbase that loves the books and movies now as much as when they were first released.
Harry Potter 20th Anniversary: Return to Hogwarts will be available to stream on HBO Max on January 1, 2022.
This article was originally published on