How to Use GroupWatch On Disney+ To Have a Streaming Watch Party
You can now watch Disney+ with up to seven other people.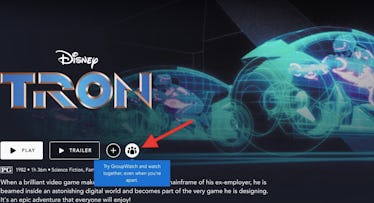 Credit: Disney+
Watching Disney+ with your family at home is pretty easy. All you need is a subscription, and something to watch it on. Disney+ is available on laptops, phones, and smartTV devices like Roku and Amazon Fire. But, what if you want to watch Disney+ stuff right alongside family and friends who are far away? How does Disney+ GroupWatch work? Is it difficult?
Nope! Just like Netflix has a party feature, Disney+ just introduced GroupWatch. Here's a step-by-step approach for getting GroupWatch to work on Disney+.
Step 1: Select the show or movie you want to watch
On the Disney+ homepage, you won't see a "GroupWatch" feature. You'll only get the GroupWatch feature if you click on a specific series or movie you want to watch. So, do that first. (In this example, we'll be watching Tron, the greatest Jeff Bridges film of all time, if you don't count Starman or The Big Lebowski. Greetings program!)
Step 2: Once you've picked what you want to watch, click on the GroupWatch icon
If you know what you want to watch with other people (remotely) you'll see an icon with three little people on it. That's the GropuWatch button. It looks like this.
Step 3: Create the Watch Party
From that screen, you'll get a screen that gives you a big plus sign. You want to click on that to generate the URL, so you can invite other people to the Watch Party.
It looks like this:
Step 4: Copy the party link and start the party!
After you click that plus sign (+) you're in good shape. You should see a link generated that creates the party. It looks like this:
That's it you're done! Now you can watch The Mandalorian or Escape From Witch Mountain with your cousin or grandparent who lives 200 hundred miles away!
Don't have a Disney+ account? Here's the Fatherly Guide to Disney+.