'Goosebumps' Author R.L. Stine Thinks Your Favorite Netflix Show Is Boring
The author talks his latest projects, why he thought Bandersnatch was dull, and all the crazy stuff he bought with his Goosebumps money.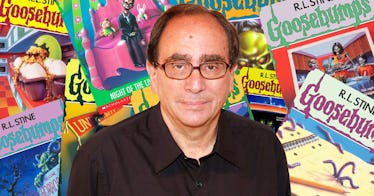 Getty
Most people pretend that their favorite author is someone who will make them sound smart. But, if you're honest with yourself — and you're of a certain age — you know your favorite author is just R.L. Stine. Calling Stine prolific would be a monstrous understatement. The author of the Fear Street and Goosebumps book series accomplished more last year than most of us will accomplish in our entire lives. The man is 75-years-old, worth 200 million dollars and has sold over 400 million books. But, he's also the most hilarious, self-deprecating, and hardworking dude in his industry. This week, the second family film based on Goosebumps — Goosebumps 2: Haunted Halloween — has just been released for streaming and home video. Like with the first film, the movie is an homage to the tongue-in-cheek thrillers kids love so much. And, both films feature Jack Black playing a metafictional version of Stine himself.
Fatherly caught up with Stine recently to talk about his feelings about writer's block, his scrappy rise to the top, and just what he thought about Black Mirror's attempt at bringing the choose-your-own-adventure genre back to the masses.
Your association with writing for children goes back a long way. Was there ever a link between you being a parent and writing for children?
Writing for kids was a total accident. Like everything else in my life. It happened a long time before my son was born. When I moved to New York City from Columbus, Ohio, my idea was to write humorous novels for adults. But, I got a lot of weird jobs when I moved to New York. My first job was making up interviews for a movie magazine. I just invented interviews. That was my first job. Then, I had a terrible job. I worked for a year for a magazine called Soft Drink Industry. It was in New York, I was writing…but it was not what I wanted to do.
Then, I answered an ad in the Times and it was to be the assistant editor Jr. Scholastic. I had never thought about writing for kids. And it just happened. I came to Scholastic and my wife started working there. We got to know children's editors and it changed the whole direction of my life.
There's a simulacrum of you in Goosebumps movies, including this new one, Goosebumps 2: Haunted Halloween, played by Jack Black. In one scene toward the end of the movie, he mentions the "terror of the blank page." Is this what you are like? Is R.L. Stine afraid of the blank page? Do you ever get writer's block?
Never! I started writing when I was nine. That's my life. This is the only thing I'm good at. And I love doing it. And it just comes very easily to me. I've never had that. People always ask me that — kids ask it — "what do you do about writer's block." I say "I don't know, I don't have time for writer's block."
Goosebumps 2 is happening. What's your involvement. Do they let you see the script?
When they do a movie, nobody wants the author around. The author is the last person they want to see. But because I was a character in both films, I got to give comments. Mainly about how I was being treated in the script. And other comments. My biggest contribution to the first Goosebumps movie is that I got them to remove two Stephen King jokes.
What were the jokes?
I don't remember. But I didn't like them. (Laughs.) The movie has me bragging about how I'm so much better than him, and how he's a fake. But there were two of them that I thought went too far. That's not me at all. But that's about my only input into these movies. (Laughs.)
I'm lucky though, both movies are really good. Both turned out to be really good. With most authors, the book comes out and it really hurts the books series.
Let's talk about Choose Your Own Adventure-style books. You did a bunch of those.
I must have done about 80 or so Goosebumps books in that style.
What were the best things about that medium?
Well, kids loved them. I get so many requests for that kind of book. And they're actually easier to write than they look. You don't really even have to write a real book. I can just make a list and a chart, and I'd number it from 1-100. In this ending, you die. You fall off a waterfall and you die. You do this, and you die. You just fill out the chat. They were really fun, easy puzzles to write. Like every kind of book series, they all have a cycle. And there was a time when people loved them and loved them and then, kids went on to other things. Then, kids didn't like them as much, and the whole thing kind of faded out.
Why do you think that is? Could it have a resurgence again? I mean, there's the Netflix thing Black Mirror: Bandersnatch
Yeah, I watched it. Did you like it?
I liked it okay.
I thought the story wasn't fun. The story was dull and I thought there should have been more depth.
Right, is that because there wasn't an adult version of this in the '80s or '90s? But, could you, personally, ever do this now, in book format, for an older audience?
It could be done. But publishers aren't really interested. Once something dies out, it's impossible to get them to try it again. I could submit a Give-Yourself-Goosebumps type of book to publishers all over New York, and not one of them would want it. These things have their lives and then they're over. There was a time when teen romance was huge back in the late '80 and the '90s. And then they were gone. And they're not going to be brought back.
Okay, what was it like for you when Goosebumps did blow-up and you were making a lot more money? Did you buy a Porsche?
Just hard drugs! That was it. (Laughs.) No, I'm kidding, of course. I shouldn't say that. I'm kidding. I was already too old to enjoy the money by the time we got to Goosebumps. I was working too much anyway. We moved to a really big apartment and we bought a summer house. With a pool. I had that. But, you know, I was writing two books a month then. I was doing a Fear Street and a Goosebumps, so there wasn't too much I could do to enjoy all the money. I had been writing for twenty years at that point and no one really had noticed.
Can you talk about that a little more? I think some people might find that encouraging. What would you say to people who have a family, but are trying to do something creative or artistic? What's the secret?
Well, I think you just keep going because it's so much fun. You have to keep going, keep going and trying new things. You'll get there. It does happen.
Goosebumps 2: Haunted Halloween is streaming and on Blu-ray now.
This article was originally published on