This Map Shows Each State's Favorite Scary Show — And It's Shocking
People either keep their obsession to themselves, or we're really late to the party.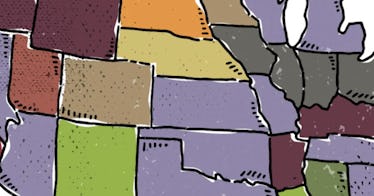 CenturyLinkQuote
The scariest month of the year is in full swing. And as we put the final touches on our Halloween costumes and map out our trick-ot-treat route, we're also putting together a list of scary and horror TV shows to catch up on. If you're not sure where to start with that, a new map highlights each state's most searched favorite scary TV show. And honestly, there are some real surprises on here.
Last year, 72 percent of families with kids under 16 years old reported that they enjoyed watching Halloween movies and TV shows together. But what are they watching? Well, their favorites, of course, while catching up on some favorites they haven't seen yet. And that's why knowing what other people are watching can help.
CenturyLinkQuote wanted to find out which horror and scary TV shows were the most popular across the country. So they collected data, more so on the most searched TV show, crunched the numbers, and used those results as the framework for each state's favorite scary show. Then they popped the results into an easy-to-read map.
To find out which show is each state's most searched favorite, CenturyLinkQuote compiled a list of the "50 most popular spooky shows" based on data gathered from list sites. "We then found each show's search volume and plugged the 11 most search shows into Google Trends to see which show was searched most by each state in the past 12 months," they explained.
The results showed a mix of TV classics like Supernatural, which was the most searched favorite in Arkansas, Idaho, Kentucky, and Wyoming; Stranger Things, which was the most searched favorite in Utah; The Haunting of Hill House, which was the most searched favorite in Connecticut, Nebraska, and Vermont.
The top three TV shows that were most searched favorites are interesting choices. The Handmaid's Tale "is the third most popular spooky series across the country, with five states searching for it most, including Massachusetts, the state where the series takes place," CenturyLinkQuote reports.
Coming in second place was a Netflix original that's not a horror show, but scary, nonetheless. "As the most-searched show in 10 states, psychological thriller You was the second most googled series overall ahead of its third season premiere on October 15," the report continued.
And taking home the top spot is honestly shocking. People either have a secret obsession with the TV show, or we're late joining the party. Still, Lucifer took home the most searched nationwide, "following the release of the show's sixth and final season last month."
Lucifer is undoubtedly on brand for Halloween, and since we've missed out on the show, apparently, maybe it is the best title to binge this spooky season.