Family Vacation Tip: Survey Says Kids Only Care About Hotels
It's not about the journey or the destination.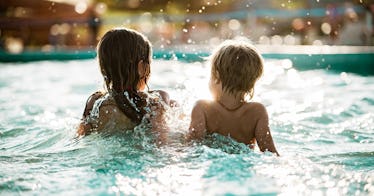 When it comes to taking a vacation, it turns out families are more interested in where they are staying than the actual destination.
In a new survey of 2,001 Americans conducted by OnePoll and commissioned by Apple Vacations, 36 percent of those surveyed said that the hotel or other accommodations was the biggest reason they looked forward to taking a vacation. This makes sense, as it's significantly easier to enjoy some much-deserved time off when you know the place you are staying in is up to your standards.
Unsurprisingly, the part of vacations that people look forward to the least are the cost (51 percent), the planning (36 percent), and, of course, packing (33 percent), all of which can sometimes make a vacation feel a little too much like work. Packing is especially annoying for parents, as you have to make sure that you have everything packed for your kids along with your own stuff.
When it comes to families, the focus on vacations is bonding and creating memories that will hopefully last a lifetime. For parents who took vacations growing up, 80 percent said that they still prioritize vacations in order to connect with their loved ones.
And while some parents may be dreaming of a vacation from their kids, the majority (52 percent) say that they have a better time if their kids are there with them. In fact, almost 60 percent said that they are willing to endure a bad day of their vacation if it means that their kids are enjoying themselves. Because doing something you don't actually want to do for your kid is just a part of what parenting is all about.
"Getting away allows families to create new and exciting memories with their loved ones and even relive some of their favorite experiences from childhood," said Armin Kaestner, VP Sales & Business Development at RIU Hotels & Resorts.
Unfortunately, Americans remain especially terrible at taking advantage of their paid time off, as an annual report from the U.S. Travel Association found that more than half of workers in the United States aren't using all of their paid days off in any given year.
The primary factor is worries about missing work, and when people do finally take a vacation, they often find that they are still checking their email and taking calls. But research actually shows that people who take time off are more productive overall, likely because they do not face the burnout from being expected to work all of the time.
This article was originally published on