'Dude Dad' Taylor Calmus Explains How He Became 'Super Dad'
"At the heart of it, it's really a show about dads -- and dads connecting about what it means to be a father in 2021."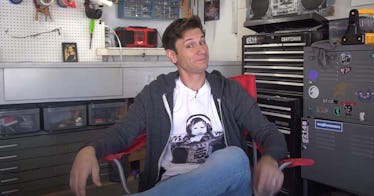 Dude Dad @ Youtube.com
Dude Dad is now Super Dad. If you're familiar with Dude Dad, you totally get what we're talking about. And, if you don't, we're "building" to an explanation. Taylor Calmus is an actor and comedian who found fame posting Dude Dad vlogs to YouTube, with viewers embracing him, his wife Heidi, and their two young kids, Theo and Juno, as he built stuff, DIY-style, for, with and inspired by his family and friends. Now, Calmus has graduated to the big time. His new family-friendly show, Super Dad, is a super-sized version of Dude Dad: bigger budget, larger-scale projects, and 22 minutes vs. 3 minutes. Super Dad debuted in May on Discovery+ and the Magnolia app with one episode, and seven more are on the way, starting July 15. During a call last week with Fatherly, the high-energy Calmus teased things to come on Super Dad, recounted how his mom and dad supported his creative endeavors and promised to support his own kids in whatever they do "as long as it's not bad for their health."
How many Dude Dad vlogs have you made over the years?I think we're at… 325 now, 330. Something like that is how many three-minute-long videos we've done.How similar and how different did you want Super Dad to be from Dude Dad?Super Dad basically has one piece of what we do on Dude Dad, but it takes that one piece and dives in way deeper. We obviously had the ability to do that, because it's a different format. We've now got 22 minutes, rather than three minutes. So, you can go way deeper and have a lot more fun with it that way. Dude Dad, we make everything from sketch comedy videos to testimonials to heartfelt pieces about what it's like to be a dad in 2021, as well as build videos. When Magnolia came along with the new Magnolia network, and I got connected with Chip and Jo (Gaines of HGTV), they saw that side of what I was doing, and were like, "That would make a great TV show." I and a couple of friends were already developing a similar idea. So, we got together, and that's how Super Dad was born.How much fun is it to you that it's a family affair, and by family, there's your wife and your kids, but also your extended family of friends?It's a dream come true. There's no other way to put it. I do not take lightly the fact that I literally have the best job in the world, with the best people that I could work with, my family, for one. It's allowed me and my wife to be at home together. Sometimes it's crazy and we're distracted, and we've got this and that going on, and we don't sound like we're just a family getting to hang out all day together doing fun stuff. But it definitely does give us flexibility and the ability to go out and do fun stuff and make it part of our job. And then in terms of my extended friends and family, in this last year, I was able to hire my two best friends who just so happened to be amazing editors and videographers to come on board. They've done nothing but make everything that I worked out for five years even better. So, I not only get to work with my best friends, but they also have made what we do so much better than it ever was.One episode has aired. Give us a preview of what's coming up.We've got seven more Super Dad episodes coming out on Discovery+ and the Magnolia app on July 15. So much fun. It's a show that is really for the whole family. Whether you're 3-years-old, or you're 65-years-old, there's something in it for everybody. And it's a build show with a lot of cool projects. At the heart of it, it's really a show about dads — and dads connecting about what it means to be a father in 2021. I think that's the Magnolia aspect of it. There's way more heart in it than I ever expected there to be. I'm really proud of it. The first episode went over really well, and I expect that will happen to the next seven.What's the craziest thing we'll see you build?Everything is huge. These projects are huge. When we first started working on it, I was living in Los Angeles, and we had a tiny backyard. But we started designing all these projects and every time I'd see the dimensions I was just like, "Wait, how big are we making this? Oh my gosh, that's like bigger than my first apartment!" There is a pirate ship in the first season. That is really cool. We were in this very suburban neighborhood with white fences everywhere. When you're in the neighborhood, you're like, "Oh, look at the houses. Wait, what is that? There's a pirate ship just sticking out of the top of his backyard!" It's probably 15-foot-tall and just towers over that white fence. How supportive were your own parents back when you were a kid trying to be creative?The opening of every episode of Super Dad spells it out. I grew up in a supportive family where my mom was the ideas-woman and still is. She just is a very creative person. I think that's where I get that from. She'd come up with all these crazy ideas of things for my dad to then build for us. My dad was the hardworking one that would just get out there and do it. Me and my brother, we had like this little five-foot by five-foot treehouse. My dad crammed everything in that thing, and it had two trap doors that had a balcony on the top. It had a rope swing coming out of it. Then he built us a batting cage. At some point, though, he just started letting us use the tools. He sold construction equipment for a living, so we always had access to all kinds of tools. And then, me and my brother just went off on our own and started building everything ourselves. That led to working for a local carpenter during high school and just gaining the skills that I'm using today to do this show.You've got two young kids and a newborn that arrived in May. How hopeful are you that they'll follow in your footsteps?If my kids want to do this, then I'll be like, "Heck, yeah! Let's do it." And if they're like, "No, I want to be a basketball star," I'd get them some Nikes and try to learn how to shoot hoops, because I don't know how to do it now. I think the thing about putting yourself out there, as somebody that's a role model for fathers, is it forces me to walk the walk. So, if they want to do it, awesome. If someday they're like, "Dad, I don't want to be in anymore of your videos," I guess I'll figure out how to do my videos without them and, and respect them for that. Whatever they want to do… as long as it's not bad for their health, I'll support and try to connect with them on it.How ready are you for a few more seasons of Super Dad if it clicks with audiences?Oh, that'd be awesome. It's a lot of work, but the work has paid off. I've gotten to see a couple episodes. They're super-fun. They're super-powerful. I'm really excited, just the reaction of everyone.Super Dad will premiere July 15 on Discovery+ and the Magnolia app.
This article was originally published on