Who's More Popular — Boba Fett or Hawkeye?
New data reveals the answer.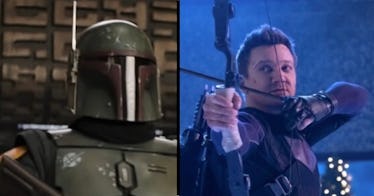 Credit: Lucasfilm/Marvel
In the battle of dad shows on Disney+, it looks like the aging bounty hunter reigns supreme over the middle-aged archer, as the premiere of The Book of Boba Fett scored bigger ratings than Hawkeye's debut at the end of last year.
According to a report from SambaTV, 1.7 million U.S. households tuned into the first Boba Fett episode over a five-day window, which was 13 percent more than the premiere of Hawkeye back in November.
Both shows hold clear space in the realm of dad content, as they both star an older guy (Jeremy Renner is 50 and Temuera Morrison is 60) who is finally getting the spotlight after mostly playing a supporting role in their respective franchise. But it looks like folks would rather watch Fett (Morrison) have to take nap breaks than see Hawkeye (Renner) have to repeatedly get his old ass saved by Katie Bishop (Hailee Steinfeld), his youthful and bright-eyed mentee.
Ultimately, both shows have proven to be hits and these high viewerships clearly represent a win for the dad community at large, showing that there is still an audience for watching over-the-hill dudes try to save the world despite their constant back pain and aching knees. But in the battle of the dad shows, it looks like the jet-packed geriatric bounty hunter is just a bit quicker on the draw than the father-turned-assassin-turned-mentor.
Of course, the harsh reality is that neither of these dad heroes can really compare to their more youthful counterparts in terms of viewership. Loki (starring a 40-year-old Tom Hiddleston) brought in a massive 2.5 million households during its debut on Disney+ over the summer and the second season of The Mandalorian (starring the 46-year-old Pedro Pascal) was so popular at the end of 2020 that it almost managed to beat The Office in the war for streaming supremacy.
The Book of Boba Fett is airing new episodes on Disney+ on Wednesdays. All six episodes of Hawkeye are also streaming now on Disney+.