The Best Disney+ St. Patrick's Movie Is Still 'Darby O'Gill and the Little People'
Bring on the leprechauns.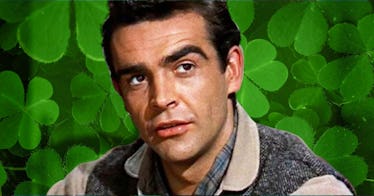 Disney
You're wearing green. You've scoured the lawn for a four-leaf clover. The corned beef, cabbage and potatoes are simmering til dinner time, and you're ready to wet the shamrock. But no St. Patrick's Day celebration can be complete without watching Darby O'Gill and the Little People. The tagline for the 1959 Walt Disney romance/comedy/fantasy blared: A touch O'Blarney… a heap O'Magic and A LOAD O'LAUGHTER! Amazingly, the film nearly delivers on its promise, as it's entertaining on so many levels.
Where to begin?Not with the story, which is a convoluted yet charming tale that involves Darby O'Gill (Albert Sharpe), aging caretaker of an Irish estate; his lovely daughter, Katie (Janet Munro); singing and dancing leprechauns; a pooka; a jug of poitin; a pot of gold; the wish-granting but sneaky leprechaun king, Brian (Jimmy O'Dea); a looming death coach; a particularly frightful banshee; and Darby's handsome, impending replacement, Mike (Sean Connery! Yes Connery, Sean Connery.). Suffice it say that it's all in service of bringing Katie and Mike together as a couple. Robert Stevenson, who directed numerous Disney classics, including Old Yeller, Mary Poppins, The Absent-Minded Professor, and The Shaggy D.A., keeps the action chugging along (running time is a brisk 90 minutes) and sprinkles the proceedings with catchy songs as well as inventive special effects and forced-perspective shots that elevate the fantastical sequences. Munro (who died of a heart attack in 1972 at the age of just 38) and O'Dea are effortlessly delightful, while Connery comes across playful, if just a wee bit stiff. And, yes, he sings, crooning the duet "Pretty Irish Girl" with Munro. Debate still rages over whether or not professionals dubbed their vocals. We're going to use one of our wishes to believe that's actually the future 007 crooning, "Oh, she is my dear/my darlin' one/Her eyes so sparklin'/full of fun/No other, no other can match the likes of her."One recommendation: If you watch Darby O'Gill and the Little People today, and it's streaming now on Disney+, do so with the closed captioning option on, as the accents are thick as an Irish stew.
Happy St. Patrick's Day! Or, as the Irish put it, Lá Fhéile Pádraig sona duit! Oh, and are we bothered that Sean Connery was actually Scottish and not Irish? No. We're not.
This article was originally published on