Dan Fogler On Playing a 'Godfather' Legend and Keeping the Potterverse Fun
The actor reveals how meaningful it was to "relive the excitement" of the Potter books through "my daughters' eyes."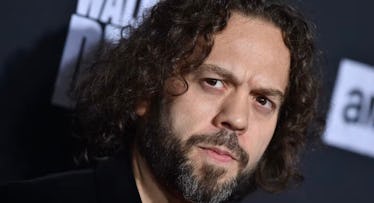 Credit: Getty Images
Dan Fogler, who plays Jacob Kowalski in the Fantastic Beasts film franchise, once joked that by the time his kids were old enough to watch the movies, they'd be using his Jacob action figure as voodoo dolls. Well, Fogler's oldest daughter will turn 10 in July and his youngest is 6, and he's now played Jacob in Fantastic Beasts and Where to Find Them, Fantastic Beasts: The Crimes of Grindelwald, and the newest installment, Fantastic Beasts: The Secrets of Dumbledore, which opens nationwide on April 15. So, are the Fogler girls jabbing away at Jacob voodoo dolls? The answer, the high-energy Fogler explains during a recent conversation with Fatherly, is a hard no.
"I just had the most wonderful experience," he says. "We were in the UK and I brought them on the red carpet. It was their first red carpet. It was the third film. This is old hat already, but to relive that through their eyes — the excitement — was such a huge pleasure for me. That wasn't even my favorite part."It was the moments where my oldest daughter was jumping up and down like a maniac after meeting Tom Felton," he says. "I've been reading the [Harry Potter] books and discovering the universe with them. It's been a wonderful experience. Probably when they're teenagers, that's when the voodoo will happen, but right now they're nice, happy, and excited for what daddy's doing."The latest Fantastic Beasts adventure unfolds in China, Bhutan, Germany, and Manhattan, and pits the saga's heroes – Jacob, Newt (Eddie Redmayne), Dumbledore (Jude Law), Theseus (Callum Turner), Lally (Jessica Williams), and Yusuf (William Nadylam) — against Grindelwald (Mads Mikkelsen, replacing Johnny Depp), a dark wizard and Dumbledore's ex, and Credence Barebone (Ezra Miller). Grindelwald will stop at nothing, including killing innocent people and slaying an enchanted Qilin, to become Supreme Mugwump and create a new world order."The first film was just so incredibly romantic to even be on set," Fogler says. "They basically rebuilt Manhattan. That was extremely magical, pun totally intended. I was like Jacob, being introduced to the wizarding world and in awe of it. The first movie reflects that joy of being reintroduced to the (Harry Potter) world. The second movie was pretty heartbreaking for me, man. In the first movie, I fall in love with Queenie (Alison Sudol), and in the second movie, we're torn apart. It was the opposite end of the spectrum of emotions, which was great to play, but I missed some of the first movie's fun and lightness."Then for this third movie, we took the best parts, all the angst and the drama from the second movie, plus all the fun and light-hearted adventure of getting the band back together, and added new characters," he says. "The third one has found a nice balance between everything that was good about the first one and the second one."Jacob, in Fantastic Beasts, served as the eyes of the audience. A simple New York baker – much like Fogler's great-grandfather, who opened Fogler's Pumpernickel on the Lower East Side a century ago – Jacob stood in wonder at everything he saw. Crimes of Grindelwald presented him as part of the team. And now, Jacob is the hope for humanity. As he helps Newt and the gang and struggles to rescue Queenie from the dark side, Jacob emerges as a game-changing character. It's no exaggeration to call him the Secrets of Dumbledore's heart and soul."Wow," Fogler says. "That's a lovely observation, brother. When you put it that way… If Queenie and Jacob actually get back together, if that works out, there's a huge potential for changing history in the Wizarding and Muggle worlds. It's a big-theme, an epic journey for Jacob, and I love how everyone is rooting for them to get back together. It's sweet. It's lovely."
Assuming that Secrets of Dumbledore scores at the box office, Fogler is ready for additional sequels. In the meantime, the always-busy actor – whose credits include Balls of Glory, Kung Fu Panda, Fanboys, Hannibal (with Mads Mikkelsen), The Goldbergs, and The Walking Dead – has several projects on the way. He's wrapped a film, Spinning Gold, about record producer Neil Bogart, and plays Francis Ford Coppola in The Offer, a 10-episode series about producer Albert S. Ruddy's experiences making Coppola's signature film, The Godfather. Paramount+ plus will stream the show beginning April 28.
"My rep said, 'You've got an audition to play Francis Ford Coppola coming up,'" Fogler recalls. "I said, 'Oookay. Bye!' That was one of the greatest parts ever to play. I was on board, just like that. The Godfather is one of my favorite movies, a lot of people's favorite movie. The reality of making it, from Al Ruddy's (Miles Teller) perspective, seems even crazier than the film. (It's for) people who are lovers of filmmaking, lovers of The Godfather, and of course, you have all of these different iconic characters involved: Bob Evans (Matthew Goode), Brando (Justin Chambers), Pacino (Anthony Ippolito)."I watched all the episodes, and I'm proud of it," Fogler says. "People are really going to take to the show."Hopefully, Coppola – whom Fogler did not meet or speak to – will like what he sees. If so, Fogler might receive a case of Coppola wine. If not, a horse head in Fogler's bed would be a Godfather-style warning."A case of wine!" Fogler enthuses. "If he really likes it, maybe he'll cast me in something. That'd be nice."
The Secrets of Dumbledore is out now in wide release only in theaters.