Vintage 'The Price Is Right' Episodes Are Streaming For Free Right Now
Want to watch free episodes of (arguably) the greatest game show that isn't called Jeopardy? Here's where to do it.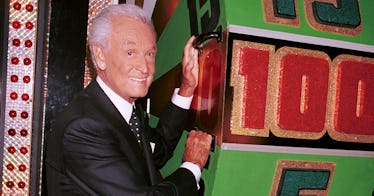 GETTY
Look. Jeopardy! is the greatest game show of all time. It's easy to play along at home, it encourages people to actually know things, and the host — Alex Trebek — was an all-around great dude. But, the runner-up for the best game show of all time might be The Price Is Right.
Between the catchphrase "come on down" and the bizarre premise of the game — seeing if you can correctly assign an arbitrary value to a bunch of random objects, there's something oddly compelling about watching the show. It allows you to participate in the trivia, but if you're wrong about guessing the price of something, the format allows you to get an indignant buzz going on. "That blender is worth $40 bucks! Come on!"
Now, there's an even better layer to watching The Price Is Right; watching old episodes of The Price Is Right from the 1970s, '80s, and all the way to 2007. PlutoTV has all these episodes and they're calling it the "Bob Barker Years," because this is the huge era in which Barker was the host.
Now the fun question is: Can you guess the prices of everyday items — but also adjust for reverse '70s and '80s inflation? It's nostalgic escapism that can make you feel good about retail therapy without buying anything. Sure, PlutoTV has contemporary ads (which can be super jarring) but, getting old shows for free is pretty great, and unlike Jeopardy! watching Barker on The Price Is Right will never make you feel dumb.
Stream classic The Price Is Right on PlutoTV here. (Did we mention they have free Bond movies, too?)