Bryce Dallas Howard Wants Everyone To Stop Making Fun of Dads
The actress, director, and daughter of Ron Howard opens-up about why she filmed her non-fiction ode fathers; her new documentary called 'DADS.'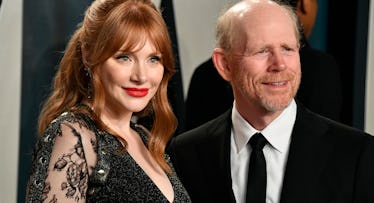 BEVERLY HILLS, CALIFORNIA - FEBRUARY 09: (L-R) Bryce Dallas Howard and Ron Howard attend the 2020 Vanity Fair Oscar Party hosted by Radhika Jones at Wallis Annenberg Center for the Performing Arts on February 09, 2020 in Beverly Hills, California. (Photo by Frazer Harrison/Getty Images)
This Father's Day, our favorite Jurassic World actress and Mandalorian director — Bryce Dallas Howard — has given a love letter to dads everywhere in the form of her new documentary, DADS. If you haven't signed up for Apple TV+, this should be your incentive to do it. The documentary is heartfelt, smart, and best of all, funny. Directed by Howard, the feature-length documentary asks one basic question: What does modern fatherhood look like? In order to answer this question, Howard takes a three-pronged approach. DADS is a documentary about celebrity dads like Keenan Thompson and Patton Oswalt cracking great jokes, but it's also a documentary about dads who aren't famous, and who have simple, day-to-day struggles like the rest of us. Finally, it's also a personal journey about Howard's own family, recalling her memories of her own dad, Ron Howard, his father, Rance Howard, and Bryce's brother — and new father — Reed Howard.
Bottom line: We're big fans of this documentary at Fatherly. It's 1 hour and 20 minutes of exactly the kind of positive dad-representation we like to see. We're also big fans of Bryce Dallas Howard, so, if you're looking for an objective take on this doc, you've come to the wrong place. It's great. If you're a parent, some part of this film will touch you and give you comfort. If you're expecting dad, this movie will give you an unflinching and smart look at what you're in for.
"I love Fatherly," Howard tells us in a Zoom call ahead of the launch of the movie. "As a parent, it's been very helpful. And making a documentary about dads, duh, Fatherly was a great resource." So, beyond the mutual admiration society between ourselves and this accomplished director and actor, we actually wanted to get into the nitty-gritty of how and why Bryce Dallas Howard made this documentary. Here's what she told us about making the film.
I was ready for this documentary to be emotional. But it was may more emotional than I expected.
Oh boy. You know, I really set out to make a comedy. I really did.
Well, other than parenting being hilarious, why did you make this documentary?
Well, I had been talking to Dove about their efforts to be advocates for men getting paternity leave. And they wanted to do a documentary about modern fathers. And I'd been doing short-documentaries in this kind of Errol Morris style. And then, after taking a meeting, I was taken with various data about the impact on kids, men, families, and women, relative to the way society perceives fathers. So, I instantly got on board. Because the only experience I'd had in my life was being exposed to awesome dads. Dads that are just killing themselves to be present and involved and to set a good example. I mean, nobody's perfect but, but it's undeniably the most important thing in the lives of good dads — their families. It's time that's depicted in media. I thought it was important that we stop making fun of dads.
Is that why you brought in comedians?
Right, stand-up comedians are our modern-day philosophers. I wanted this to be a discussion about what has changed about fathers. And also, what changes for men. There's no real rite of passage before a man becomes a father. Zero. Zilch. Didn't come up in my research. And that kind of lack of acknowledgment that it's just as much a change for the father as it is the mother is simply bizarre and the root of a lot of not-great stuff that can happen to families. In short, yes, I wanted the film to feature these comedian dads as our "Greek Chorus." And I wanted to go around the world and film father's in their natural habitats.
How many dads did you interview?
Right from the beginning, I wanted to infiltrate the daddy blogger community. So, that's how I connected with people like Glen Beleaf Henry, Robert Selby, and so many others. It was a tragedy that I couldn't include like 30 more dads. But the people we did interview I thought were part of the more domestic and real story of fathers.
There's a bit in the documentary about the times when dads are forced to "become the bad guy." There's one scene where a dad like destroys a teen's video game. I found this stuff to be the most interesting. Can you talk about that?
I wanted to unpack a lot of the stereotypes around dads, and one stereotype is that dad is the disciplinarian. And with teenagers, I wanted to see the various ways dads had to have some kind of discipline while simultaneously showing how the emotional development of teenagers is vastly different from any other stage of child-rearing. The editor and myself returned to that section because we wanted to get it right. We had a couple of rules: We didn't want to depict teenagers who were intoxicated or who [were acting out] because of developmental disabilities. None of that seemed fair. And obviously, we didn't want to show anything abusive. And yet, we wanted to depict how intense this period can get for dads. And obviously, the most intense is when the guy with the sledgehammer destroying the video games.
We don't get a manual to raise a child. How is a father supposed to discipline, especially fathers that really care? I'm not looking forward to it. I'm starting to get a glimpse of it with our 13-year-old, but he's still pretty innocent. But I don't want to deal with teenagers!! It's such a huge parenting gear-shift that I was hoping to really show it.
As a kid who grew up in show business, it seems like you were sheltered from some media as a child. As a parent, how do you balance how much media your kid is exposed to? Not just screen time, but media in general?
Like anyone, I struggle with the same kind of thing: Is there hypocrisy in limiting what my kids watch when I work in media? Of course, with screen time, it's about thinking about developmental milestones and how much stimulation our optic nerves can take. At the end of the day, getting to include the kids in what I'm doing — in the process — and not just the result, makes me feel better and better. That way, they understand what went into it. And that's what I experienced as a kid as well. My parents were pretty strict about what I was watching, but I was on set every single day. With future projects, I certainly ask my kids about various ideas, to see what they respond to and what they might be interested in. Getting their feedback is absolutely invaluable. Seeing media as something they can influences and participate in, will, hopefully, be empowering.
DADS is streaming now on Apple TV+
Check out Fatherly's Coolest Dads For 2020. (Including several dads in this documentary!)
This article was originally published on