RIP 'America's Dad' Bob Saget: Read These 10 Heartfelt Tributes
Friends, family, and fellow comedians shared their love for Saget on social media.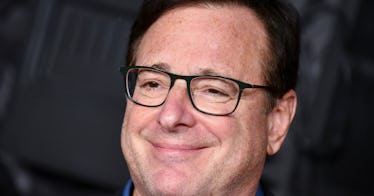 Rodin Eckenroth/FilmMagic/Getty Images
Bob Saget died unexpectedly on Sunday in Florida at the age of 65. In the '90s, Saget was the king of television, best known for playing Danny Tanner on Full House and hosting America's Funniest Home Videos for most of the decade.
During his run as Tanner, the cleaning-obsessed, wholesome single father in Full House, Saget widely became known as America's Dad. It was a fitting title, as Saget's performance delivered everything you'd want from a dad; he was kind, caring, extremely dorky, and always there to give you a hug at the end of the day.
But he turned out to be more like America's Dirty Dad. In real life, Saget was a prolific standup comedian and he had an affinity for telling filthy jokes, which shocked many fans who only knew him from Full House.
Yet the fact that Saget was able to so convincingly play Tanner speaks to his talent as an actor and while he may have loved a dirty joke, it's clear from the flooding of tributes from friends, family, and co-workers that Saget's heart was full of life and love. Here are a few of the best tributes to the television legend.
Of course, many of Saget's Full House co-stars shared loving tributes to him, including John Stamos, Dave Coulier, and the Olsen Twins.
John Stamos
Dave Coulier
Candace Cameron Bure
Mary Kate and Ashley Olsen
"Bob was the most loving, compassionate and generous man," the Olsen twins wrote in a statement. "We are deeply saddened that he is no longer with us but know that he will continue to be by our side to guide us as gracefully as he always has. We are thinking of his daughters, wife and family and are sending our condolences."
Several comedians and friends also posted about Saget's passing.
Jim Carrey
Judd Apatow
Jason Alexander
Mindy Kaling
Jon Stewart
Norman Lear
This article was originally published on