Stressed Out? This Guy's Virtual Bob Ross Art Gallery Will Infuse You With Chill
Prepare to learn everything you didn't know you needed to know about Ross and his paintings.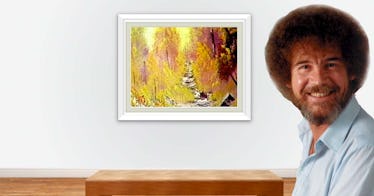 Bob Ross/PBS/Connor Rothschild
It's no secret that pretty much everyone is dealing with an inordinate amount of stress these days as a result of the global pandemic. And while it appears we may slowly be exiting the pandemic, you may be having a hard time leaving all of your built-up anxiety behind as well. Luckily, there may a solution: The Bob Ross Virtual Art Gallery.
Created by Connor Rothschild (based on data collected by Jared Wilber), the online art gallery features all 403 paintings that Ross or his guests created on his iconic Joy of Painting series. Want to briefly escape the confines of your home office and head to a majestic mountain view? Or maybe a seaside excursion? Whatever sort of scenic artistic experience you desire, you can find it in Ross's extensive collection and it will make you feel like you took a trip to the museum without leaving your couch.
Of course, part of the experience of Bob Ross is seeing his process and hearing his iconically soothing voice as he casually creates a masterpiece before your very eyes. That is why you can also see the YouTube video of each painting's creation along with the finished painting.
And The Bob Ross Virtual Gallery goes well beyond just showing his paintings, as the data provided by Wilber allows fans to do an unprecedented deep dive into the stats of Ross as a painter. For example, you can see how many different colors of paint he used in each painting and see that he mostly used between 10-13 paint colors to complete a piece. You can also see which paint colors he most commonly used.
The experience will delight any fan of Ross's work, as the Bob Ross Virtual Gallery truly feels like a proper celebration of one of the most delightfully chill artists of all time.