Black Widow Will Hit Disney+ For "Free" This Week
The timing is a little more than convenient.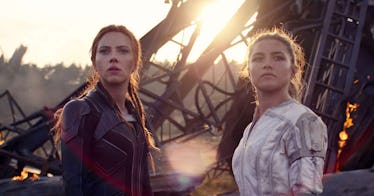 Disney
If you're looking forward to watching Black Widow, one of the latest installments in the Marvel movie franchise, your time is coming.
The movie, starring Scarlett Johansson, is set to release for "free" on Disney+. Meaning if you have a Disney+ subscription, you'll be able to watch it without an additional fee. But the timing of the movie hitting the streaming platform is a little interesting — because Natasha Romanoff is basically Marvel's Bond.
In many ways, the stories are similar. In both movies, a regular person, not a superhero with genetically enhanced super abilities, happens to be really good at spy stuff who becomes known as the best in the world.
This is the first movie that focuses solely on the Black Widow character and the mystery of Natasha Romanoff. The stand-alone film is her origin story. And the way the story unfolds is essentially a plot for any of the many Bond movies.
So, did Disney announce Black Widow was hitting its streaming platform for free on October 6 so that people remember Natasha's awesome human abilities just two days before the next Bond movie hits theaters? It's a mystery we may never solve.
As for our money, you may as well just enjoy both films and not take it all too seriously. Black Widow has already hit theaters for its run, and 007's No Time to Die is set to begin its theater run in a few days, so there's no harm in watching both and seeing which spy you prefer — the kind that pals around with the Hulk or the kind that is extremely good at using guns. (Wait, is Black Widow a better hero than Bond? No… let's not open that can of worms!)
Black Widow will be available for free streaming on Disney+ on October 6 and is available right now on Blu-ray. No Time to Die will hit theaters on October 8, 2021.