The Next 'Avengers'-Era Movie Is Headed Straight to Disney+
Here's when to catch 'Black Widow,' 'Cruella,' and 'Luca.'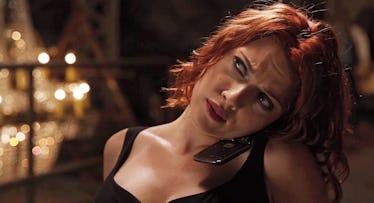 Marvel
The next Avengers-era movie will hit theaters this year…and Disney+, too. The long-awaited prequel film, Black Widow, starring Scarlett Johansson's titular Avengers badass will be available for Mulan-style straight-to-streaming action on July 9. That's right for $29.99 (and your Disney+ subscription) you'll be able to watch this big-budget Marvel blockbuster from the comfort of your couch, or on your phone.
Although Black Widow was originally set for a theatrical release, Disney has just announced it will be moved to a streaming + theatrical release in July. Disney also revealed the next live-action Disney movie Cruella will hit both theaters and Disney+. The next Pixar movie, Luca, will also hit Disney+. Like Black Widow, Cruella will be available for "rental" with a "premiere access" $29.99 price tag, while Luca will just hit Disney+ proper, kind of like Soul did last December. Here's how the release dates shake out.
Cruella, May 28: Disney+ Premiere Access and theatrical
Black Widow, July 9: Disney+ Premiere Access and theatrical
Luca: Disney+
Everybody is clearly going to pay $29.99 for Black Widow if only to celebrate David Harbour's dad bod. The question is, will we all pony-up almost $30 bucks to watch Emma Stone burn shit down Joker-style? Time will tell.