'Billions' Explores the Power Dynamics That Create Sexual Dysfunction
Chuck and Wendy struggle to keep the spark alive.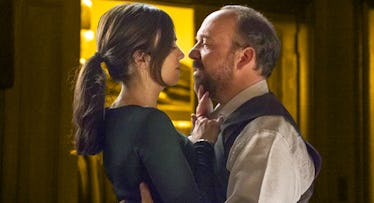 Showtime Entertainment
After celebrating Billions' fourth season premiere for highlighting TV's best worst dad, episode 2 makes a hard pivot from dad to daddy by talking about a subject that the show loves even more than withholding fathers: sex and the dysfunction that comes with it. In this week's episode of Billions, sex is prominent on everyone's mind but while Axe seems to be having a good time with his new business partner/fuck buddy, the most compelling scene of the week involved Chuck and Wendy, as we got an in-depth look at how they are struggling to maintain a healthy sexual intimacy.
It begins with Wendy initiating a normal hookup with Chuck in the bedroom. He initially seems into the spontaneity but before too long, he asks if they can get out "the box," which contains all of his favorite toys.
"This is working for me," Wendy says, clearly trying to tell Chuck to give the more straightforward approach a chance.
After Chuck basically begs, Wendy relents but the aftermath shows that Wendy and Chuck are not at all on the same page sexually or emotionally. While Chuck sleeps like a baby, Wendy looks wistfully off into the distance, making it clear that working fully to please Chuck was not "working" for her.
The show walks a delicate line by saying that there is nothing wrong with Chuck getting excited by chains and whips while also highlighting the fact that it is clearly wrong that he is only interested in what he is getting out of their sexual relationship. The lingering doubt causes Wendy to seek out two women for advice: Troy, Chuck's former dominatrix, and Bonnie, a coworker who seems to have some ownership over her own sexuality. Unsurprisingly, neither give Wendy much of a reason to feel optimistic about the future.
First, Troy lets Wendy know that Chuck's submissive desires are unlikely to change. The dominatrix explains that this isn't just kinky role-playing for him; his "deeply rooted" craving to be dominated is insatiable.
Later, Wendy tries to figure out how Bonnie is able to get what she wants in the bedroom but Bonnie shares a grim truth: She isn't getting what she wants either. The closest thing she has to a solution? Running the streets of Manhattan at night "until I forget that I want anything at all." And in the episode's final scene, we see that Wendy has embraced Bonnie's cynical perspective, as she is shown running the streets of Manhattan at night, seemingly trying to reach the point where she forgets what she wants.
Given the dark nature of the show, it's hardly surprising to see Billions offer a pretty sad perspective on sexual dysfunction and the power dynamics that fuel it. But the show does a predictably nice job showing how gender informs how people view sexuality. While Chuck and most of the men see sex as transactional or entirely about themselves, women are left struggling to figure out how to make this blatant imbalance work for them. And the show's message is loud and clear: unless both sides feel they can honestly communicate their wants and desires, achieving a healthy sex life will be nothing but an unattainable fantasy.
This article was originally published on