Billie Eilish Owned SNL: Here are the 3 Best Moments
SNL is having its best season in years. And that hot streak continued over the weekend.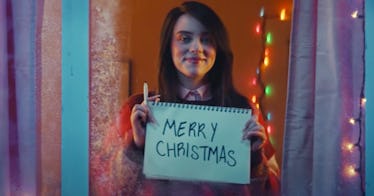 NBC
As we reach the end of the year, Saturday Night Live continues to have one its strongest seasons in recent memory. And over the weekend, pop star Billie Eilish took on double duty as both the host and musical guest to deliver laughs from the cold open to the 10-to-1 sketches. Here are three of the highlights that you absolutely need to see.
Making Sense of TikTok
If you are over the age of 25, you are probably confused about the phenomenon known as TikTok. Fortunately, if you are one of those old dinosaurs who remembers a time before social media, the cast of SNL offered an introduction to this brave new world via a hilarious sketch showing what TikTok is all about. The video had all of the bizarre trends that you'll find on the app, including random people commenting on the lives of celebrities, white guys doing terrible covers of Flo Rida, and medical professionals ignoring their jobs to participate in dance challenges. Basically, TikTok is really, really weird and the more you try to make sense of it, the more perplexed you'll likely end up. And that, my friends, is simply a part of getting old.
Kate McKinnon Returns
McKinnon has been absent for most of this season while off shooting the Tiger King movie but she returned tonight and proved that she can still dominate a show with ease. She brought back her Fauci in the Cold Open, played a disturbed grandma in the night's funniest sketch, and helped Eilish deliver her best performance in Hotel Ad. As long as Kate is in Studio 8H on Saturday Night, she will be a comedic force that cannot be ignored.
Kyle Mooney's Awkward, Lonely Christmas
Kyle has an extremely specific sense of humor that doesn't always work in sketches but he shines in digital shorts, as his ability to make everyone around him incredibly uncomfortable with his pathetic attempts at connecting are hysterical. Here, he is just trying to get one of his cast mates to spend Christmas with him but ends up getting rejected by everyone and pours his heart out to a sympathetic Eilish, telling her that "they don't know how to use me on this show." It's bizarre, meta, and exactly the type of thing that has made Kyle a cult comedy hero.