The Best Sean Connery Movie You've Never Seen
Time to watch 'The Great Train Robbery.'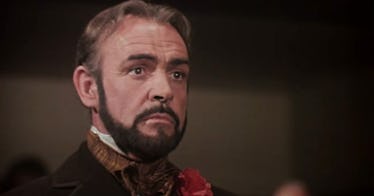 The news was double-o sad. Sean Connery, the movie world's first and greatest James Bond, died on October 31 at 90 years old. The Scottish actor led a remarkable career and life, and he leaves behind his family, friends, countless millions of fans, and dozens of films. There are, of course, the 007 adventures – Dr. No, From Russia with Love, Goldfinger, Thunderball, You Only Live Twice, Diamonds Are Forever and Never Say Never Again – as well as everything from Darby O'Gill and the Little People, Marnie, Zardoz, Murder on the Orient Express, The Man Who Would Be King and Robin and Marian to Outland, Time Bandits, Highlander, The Untouchables, Indiana Jones and the Last Crusade, The Hunt for Red October, and The Rock. And he made memorable cameos in the likes of Memories of Me, Robin Hood: Prince of Thieves.
So many great movies. So many great performances. So many different kinds of films. But if Connery's passing inspires us to track down one old movie to watch as a tribute, it'd be The Great Train Robbery. Released in 1979 in the U.S., the heist-thriller was written and directed by Michael Crichton based on his 1975 novel of the same name, which recounted actual events (with some dramatic license taken). To be honest, the film is really good, not great, and far from a classic. We'd give it a solid three out of four stars. But, it's still a forgotten gem in Connery's filmography.
The Great Train Robbery unfolds in 1885 and follows master thief Edward Pierce (Sean Connery) as he plots, carries out, and then deals with the consequence of a brazen robbery that involves stealing seemingly well-protected gold from aboard a moving train. Pierce's accomplices include his smart, sexy mistress, Miriam (Lesley-Anne Down), and a wily pickpocket, Agar (Donald Sutherland). The three joyously enact their plan, rehearsing the process over and over, which results in a lot of slow expository dialogue and repetitive scenes, but the actors charm their way through it all, and the chemistry between them is undeniable. The second half of the film, with the actual robbery, delivers the goods: action, stunts (Connery did most of his own), comedy, romance, and intrigue, and it's all complemented by inventive cinematography, lush Victorian-era costumes and sets, and a jaunty Jerry Goldsmith score.
Make no mistake, however, The Great Train Robbery is Connery's movie and he steals it. The actor, who initially turned down the project, plays Pierce with a broad smile and a mischievous glint in his eyes. It's a blast to watch an actor having genuine fun on screen, and this is a case study in that. Connery always imbued his Bond with a bit of sly, impish humor, and he amplifies that a notch or three here. In one scene, a scolding judge says to Pierce, "Now, on the matter of motive, we ask you: Why did you conceive, plan and execute this dastardly and scandalous crime?" Pierce, in a line delivered by Connery with comic precision, replies: "I wanted the money."The Great Train Robbery is available to stream on Amazon Prime Video, priced at $3.99, and $4.99 to buy.
This article was originally published on