The Best Gilbert Gottfried Jokes You Can Tell to Your Kids
The few but great Gottfried jokes appropriate for the whole family.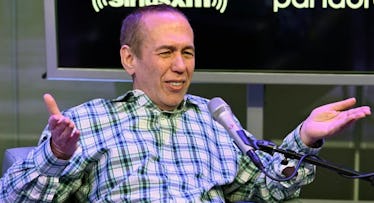 Credit: Slaven Vlasic/Getty Images Entertainment/Getty Images
Comedian and actor Gilbert Gottfried died this week after a long illness, his family announced on Tuesday. Known for his distinct voice and punchlines that often pushed – and crossed – boundaries, Gottfried was usually a sure bet to make people laugh and then feel guilty for laughing. He didn't tell dad jokes per se, but he did tell jokes that parents love. The only trick is, that most of his humor was decidedly for grown-ups only.
That said, there were a few wonderful Gottfried bits that are somehow, utterly clean jokes. Here are the best moments when Gottfried cracked us up without offending anyone. Well, almost anyone.
Yoda Can't Retire
Appearing on The Tonight Show with Jay Leno in May 2005, Gottfried donned off-brand makeup and a frumpy costume for an appearance as Yoda that was most assuredly not approved by the folks at Lucasfilm. Leno and Gottfried take turns setting each other up for jabs at famous figures, as well as each other, with Gottfried's Yoda unafraid to tread in political waters.
When asked why Yoda still has to work at 876 years old, Gottfried responds "the Bush social security plan!" To which he adds, "Screwed, are we!" And when the joke loses a bit of momentum due to his and Leno's inability to clearly hear each other, he saves it by claiming, "in my galaxy, that joke kills!"
"You Fool!" on Hollywood Squares
All the poor contestants needed for a victory was to accurately determine if Gottfried was telling the truth. It proved a nearly impossible task, albeit with entertaining results. Following every wrong answer, Gottfried would yell "You fool!" And as the wrong answers piled up, the bit kept getting funnier and funnier.
Gilbert Gottfried is a Horrible Weatherman
WMBD-TV in Peoria, Illinois let Gottfried hijack a weather segment, and he made sure to get nearly everything wrong. He mispronounced the names of towns across Illinois, ranted about weather concepts he allegedly didn't understand, constantly blocked maps and graphics, and only spoke into the correct camera when the meteorologist physically turned him in the right direction. If you ever wondered what it would look like if Grandpa Simpson wandered onto a news set, this segment will give you a good idea.
Herman Melville's Whale and Jerry Sinefeld as Hamlet
Have you ever thought about how preposterous some of the details in Moby Dick are? Gottfried has. It would be hilarious to see an English teacher's reaction to a kid who quoted his summary of the classic novel as the story of "a tiny little sea captain falls into the ocean, an enormous whale rips his leg off, and a group of sailors who don't have a kindergarten education perform microsurgery and save his life."
Stick around for the Moby Dick crash course. Stay for Gottfried's impersonation of Jerry Sienfeld as Hamlet.
Gilbert Gottfried Hates Maple Syrup
Nobody tell Buddy the Elf, but Gilbert Gottfried is not a big fan of maple syrup. Multiple times throughout the years, he taunted his Canadian hosts at the Just for Laughs comedy festival with his imagined recounting of the condiment's discovery. "Years ago, Canadians were walking through the forest and they saw a tree with disgusting brown goo dripping out of it, and they said 'There's disgusting brown goo dripping out of that tree…Let's eat it!"
Like most of Gottfried's jokes, the premise is helped along by the incredulity his voice and facial expressions vault his incredulity off the charts. It's almost enough to make one give up something as delicious as maple syrup.