Baby Yoda, Daddy Mando, and How Star Wars Gave Parents a New Fantasy
We all love Star Wars, but if you're a parent, it's hard to locate yourself in the films. Now, a strong-with-the-force infant has changed that forever.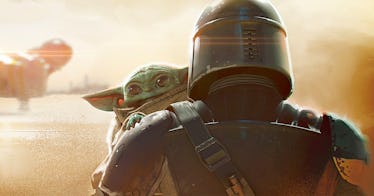 Christian Alzmann/Disney via TheMandalorian/Twitter
In the first scene of chapter four of The Mandalorian, our helmeted, beskared, and frustratingly monosyllabic protagonist is forced to cuddle Baby Yoda in order to get a little bit of work done. After fruitlessly trying to prevent the adorable space toddler from pressing every single dangerous button on his spaceship, Mando just gives up and plops squirming child in his lap. This is a moment. For years the Star Wars franchise avoided depicting a parent-child dynamic. With Mando and Baby Yoda, that's finally changing. Parenthood has arrived in a galaxy far, far away — just in time for an enthusiastic generation of fan-parents.
Mild spoilers ahead for The Mandalorian Chapters 1-4.
Chapter three of The Mandalorian is called "The Sin," and right after watching that installment with my wife, she said something truly blasphemous to me: "I like the Mandalorian better than Luke Skywalker." This is both crazy and entirely understandable. We have more in common with Mando than we do with Luke Skywalker or even Han Solo. Part of this is because we can't see Mando's face so there's a tabula rasa effect — in his anonymity, we can find ourselves as parents. Though Chapter four teased a moment of un-masking, the fact that, for now, Mando remains faceless only enhances that projection, allowing us to dream about what arsenal we might deploy to protect our children.
A cynic might say Mando is a helicopter parent or a snowplow parent, but for most of us, Mando is a "don't fuck with me I'll kill you with lasers" parent. He may not technically be Baby Yoda's dad, but right now, Mando is the very best parent in all of Star Wars.
To be fair, Mando grabbing the title of best Star Wars parent wasn't hard. Relative to good parents or parent proxies, the bar in the Star Wars mythos is laughably low. From Darth Vader's kindergarten reaping to Galen Erso's poor work/life balance to Uncle Luke contemplating nepoticide in The Last Jedi, it's been less than impressive on the nurture front to date. Sure, Obi-Wan Kenobi ensured the safety of Baby Luke in Revenge of the Sith, but just like Mando contemplating leaving Baby Yoda with a village in chapter four, Obi-Wan kind of relegates the day-to-day of raising Luke to someone else.
We haven't seen Mando change a diaper yet on the show — the force works in mysterious ways — but the chances he has changed a diaper are much higher than literally any other father we've seen in Star Wars, ever.
At first glance, this might not seem that significant, but when you consider how often the words "Star Wars" and "childhood" are thrown together the idea of positive and laudable parenting in Star Wars becomes almost imperative. Star Wars creator George Lucas has long-maintained that the saga itself was created for adolescents, which is why middle-aged fanboys have often asserted a kind of bizarre ownership over the contents of Star Wars itself. Whether you grew up with the classics or the prequels, adults who are actually adulting, tend to think of Star Wars relative to the escapism of being a child. And, each time Star Wars has tried to become a little more gritty or adult (I.E. Rogue One and The Last Jedi) it always feels like its betraying contemporary children, just a tiny bit.
To put it another way; since the classic trilogy, Star Wars has struggled to tell high-stakes stories within its weird status as a child-friendly franchise. The Mandalorian, by seeming to be the first Star Wars series with room for parents, jettisons this baggage out into space.
You can watch The Mandalorian with the kids. And, of course, plenty of childless Star Wars fans love the series, too. But, its sudden popularity isn't only connected to the cuteness of Baby Yoda. It's also a product of Mando's tender relationship with "the child." Writing for Vanity Fair, journalist Anthony Breznican notes: "There is no shrill squawking from Baby Yoda, no tantrum, no spit-up, no uncontrollable shrieking that burrows into a parent's psyche like a dentist's drill shredding a soft, pink nerve." This is true and correct, but what it misses is not just the fact that The Mandalorian avoids triggering parents; the series is actually putting parents at the center of the action.
And there's hope. Parenting is based on hope.
We're told in all the trailers for each new Star Wars feature film (including December's The Rise of Skywalker), that a grand adventure is being passed to a new generation, and, for the most part, that means fresh-faced young people are grabbing lightsabers and whopping and hollering from the cockpit of a starship. The Mandalorian is not like that. For the first time — perhaps ever — the titular character isn't some grinning upstart, intent on saving the galaxy. Instead, this is just a tired, overworked guy, trying to keep his spaceship running and a little tiny baby safe in an endlessly dangerous world. Real parents may never have the transcendent religious experiences of Luke Skywalker or Rey, but when we look at the Mandalorian holding Baby Yoda, the fantasy world of this mega-popular space epic is suddenly a reflection of our own daily lives.
It's not our father's Star Wars, and it's not our children's Star Wars. This is ours.
The Mandalorian is streaming now on Disney+. Here's a guide to when all the episodes drop.