This Simple Device Will Let You Netflix and Chill Without Waking the Baby
If you do a few simple things, everyone will sleep more soundly and be happier, too.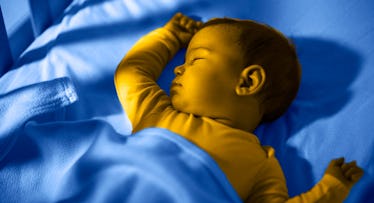 Whether you have a newborn or a three-year-old, the biggest enemy of a parent's sanity is wondering when and how your kid will go to sleep and then, what to do with yourself once it happens. We all know the idea that sleeping when the baby sleeps is a ludicrous myth and that most parents just want to chill out with some Netflix or something with their partner. But, how can you watch TV successfully and not wake up your sleeping baby or toddler? What if you're sleep training?
Here four methods to consider, all of which involve spending very little money. And if you use method number one in combination with method number two, you'll probably find it will change your marriage in infinite ways. And, if you're a single or unmarried parent, date night at home just got a whole lot easier.
Ready? Let's watch TV and not wake up the baby. (Ever)
1. Get a Headphone Splitter
The silver bullet to watching TV when you have a tiny baby or a toddler is this: Get your headphone game straightened out! Now, those of us who have watched a show on our phones or on a laptop already know headphones are useful, but watching a show by yourself doesn't improve your relationship with your spouse. This is why you need a headphone splitter.
You can buy a headphone splitter from your local 99 cent store, Radio Shack, Best Buy, or whatever electronic store equivalent might be. These things should cost you like 8 bucks, max. Can't find a headphone splitter, here's one for $5.97 on Amazon.
I like the headphone jack splitters with the really long cords, and I'll tell you why. Part of the problem of watching TV with headphones on your phone or laptop is that you're kind of chained to the phone depending on the standard length of Apple headphones, or regular headphones or whatever. But, if you and your TV-watching companion have really long cords for your headphones, you can get pretty comfy on the couch. This simple thing changed how my wife and I watch TV together. Sure, there's a mess of headphone cords between us — sometimes in your laps — but our necks and ears aren't getting tugged at every three seconds thanks to all that extra slack.
2. Use Your Splitter With a Remote that Lets You Watch Regular TV With Headphones
I know this may sound really obvious, but I've met enough new parents who haven't even thought to do this. You can buy all sorts of remote controls that will let you plug in a standard headphone jack. This is where you can use your jack splitter and just watch a TV show or a movie as loud as you want while your kid is asleep. My personal preference here is an older model of a remote for the Roku. If you have Roku, you can get this remote here. And if you don't have Roku, here's a universal remote that should accomplish the same thing and let you plug in headphones.
Here's one thing that's both interesting and frustrating: most remotes that come standard with a new TV or streaming device don't have a headphone jack capability built-in standard. The old Roku remotes (which you can still get) are some of the few and only big streaming set-ups that thought to do this. So, the next time you're giving your cable provider or streaming provider or whatever some feedback, tell them that parents need more remotes with headphones! (Come on Apple TV!)
NOTE ON HEADPHONES: Obviously, if you love your child, have a video monitor in plain sight while you are watching TV with headphones plugged in. I put my baby monitor on my lap when watching TV this way.
3. Closed Captions
Okay, so you can't figure out the headphone thing; the cords are too tangly, the remotes with the headphone jacks are just too hard to find. I get it. Guess what option is right there: Closed Captions. I know, this sounds really lame, but when you have newborn sleeping in the next room it really, really works. Sometimes you can even get away with having the volume on really low, and then just using the captions to verify that what you heard was in fact what you heard. One note: this method doesn't really work for comedies, but it does work great for old murder mysteries.
4. Good White Noise Machines
Part of what you have to worry about isn't so much how much noise you and your partner are making, but instead, how much of that noise is getting into your kid's room. Investing in a good white noise machine can make a huge difference between a child getting a good night's sleep and a night with a bunch of wakings. I speak from experience here; cheap noisemakers that are just glorified low-power fans won't really cut it. You want to get something good like the Lectrofan; there are multiple sound settings that are unobtrusive and actually create a white noise shield for your sleeping little one, but also, still allows you to hear what's going on inside.
And, all that white noise means your show or film might end up sounding just like street traffic to the ears of your slumbering bundle of joy.
This article was originally published on