'Baby Beluga' Goes International- Watch Kids Sing Raffi's Classic in Cree
The performance ended up winning an award.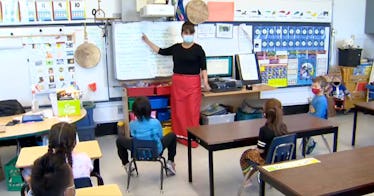 Children all around the world love Raffi and his iconic song 'Baby Beluga,' so much so that a group of students in Winnipeg decided to sing the song in Cree and their performance ended up winning them an award.
The students at Isaac Brock School were researching beluga whales when they decided to learn the lyrics of the Raffi song in Cree, a dialect continuum of Algonquian languages that is spoken by over 117,000 indigenous people in Canada.
Ms. Omand, the students' teacher, sang the first couple of lines for the students in Cree and found that they really responded to it, so she decided to teach them the entire song for them to perform. She said that she was excited to see her students take so much pride in their performance.
"They're actually going home and singing to their families," she says. "The students are bringing the language home."
Along with some help from other staff members, Ms. Osman recorded the students singing 'Baby Beluga' in Cree, and along with art from the students, they were able to turn it into a video.
The students' amazing performance even proved to be award-worthy, as they were given the Classic Culture and Language Contest at the virtual Indigenous Languages Symposium. They also got a shoutout from Raffi himself, who praised the students' performance and said that the award they received was "well-deserved."
"How sweet! A well-deserved award for a historic version of 'Baby Beluga,' with lovely children's art," Raffi said upon seeing the performance. "Music and reconciliation, art and cultural pride produced something to celebrate."