30 Best Kids Christmas Movies Streaming Right Now
Get your kids in the holiday spirit with these movies!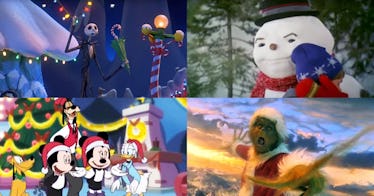 Disney, Universal Pictures, Warner Bros.
The holidays are a magical time of year, especially for kids. Some kids even start daydreaming about the presents sitting under the tree on Christmas morning in July. With the temperature dropping, snow appearing in the weather forecasts and winter break approaching rapidly, it's good to have some Christmas movies in your arsenal. There's no better way to spend a chilly evening than by the fire, with some cozy blankets, eating warm cookies and watching a Christmas movie with your kids. You can show them some of the classic holiday movies you watched when you were their age or you could watch Christmas specials featuring some of their favorite characters, like Poppy from Trolls or Po from Kung Fu Panda. Either way, you'll look back fondly on these memories. We've rounded up some Christmas movies streaming on Netflix, Amazon and Hulu that are bound to get your kids in the holiday spirit.
30. Miracle on 34th Street
When a man who claims to be the real Santa Claus is institutionalized, a lawyer and a young girl comes to his rescue in this classic film. Stream it here on Hulu.
29. The Nightmare Before Christmas
This strange but delightful stop-motion animation film combines both Halloween and Christmas. When Jack Skellington tries to bring Christmas back to Halloween Town, everything gets even weirder. This film is perfect for kids who like darker or spookier movies. You can stream this film here on Hulu.
28. I Want a Dog For Christmas, Charlie Brown
In this double feature, you get double the Peanuts stories. In the titular story, Linus asks for a dog for Christmas. In the second half, Happy New Year, Charlie Brown, Charlie Brown is assigned to write a paper on War and Peace during the holiday break. Watch it on Amazon Prime here.
27. Arthur's Perfect Christmas
Your favorite aardvark teaches kids about all the different holiday traditions people can have. Watch it on Amazon Prime here.
26. Jack Frost
In this classic 1979 film, Jack Frost becomes human in an attempt to win over a woman he loves. This isn't technically a Christmas movie, but Jack Frost brings in the winter season, so it's close enough. Watch it here on Amazon Prime.
25. Christmas with the Kranks
When the Kranks try to escape Christmas and all of its traditions for a tropical vacation, their Christmas-loving neighbors foil their plans. Watch this classic Tim Allen movie here on Amazon Prime.
24. Curious George: A Very Monkey Christmas
The Man in the Yellow Hat and Curious George are super excited to celebrate Christmas. Watch it on Netflix here.
23. The Cat in the Hat Knows a Lot About Christmas!
The Cat and the Hat, Thing 1, Thing 2 and all of their friends help a young reindeer find his family. Watch it on Netflix here.
22. Santa Buddies: The Legend of Santa Paws
The Buddies have to save Christmas when Santa Paw's pup, Puppy Paws, wishes that Christmas would disappear. There are a ton of puppies in costumes. Watch it here on Netflix.
21. The Search for Santa Paws
In this prequel to Santa Buddies, Puppy Paws must save Christmas after Santa's memory starts to fade. Watch it here on Netflix.
20. Santa Claws
We couldn't have two movies about puppies on this list without having a Christmas kitten. Santa Claus has a bad allergic reaction to the kittens in his sack, so the kittens have to deliver the packages in his stead. Watch it on Netflix here.
19. Kung Fu Panda: Holiday
Po (Jack Black) is in charge of hosting the winter celebration dinner, but everything isn't quite going according to plan. Watch it here on Netflix.
18. Christmas Ranch
After a girl is sent to her grandmother's horse ranch for Christmas, she bonds with one of the horses and decides that she must save the ranch from foreclosure. Watch it here on Netflix.
17. Christmas Inheritance
Before she inherits her father's company, socialite Ellen is sent to her father's hometown to learn the value of hard work. Watch it here on Netflix.
16. Trolls Holiday
Poppy, Branch, and other members of the Snack Pack are appalled when they find out that the Bergens don't have any holiday. They help King Gristle and Bridget create a holiday of their own in this special. Watch it here on Netflix.
15. The Star
If you're looking for a more religious kids movie for Christmas, check out The Star. This is a retelling Jesus's birth and the nativity scene with talking, animated animals. Watch it here on Netflix.
14. The Holiday Calendar
When a young photographer receives a magical advent calendar from her late grandmother, her life begins to change. It seems like the calendar is predicting her future, which seems to have a whole lot of love in it. Watch it here on Netflix.
13. DreamWorks Holiday Classics
This special includes four stories featuring your child's favorite characters such as Shrek, Hiccup, Toothless and the animals from Madagascar. It's quadruple the fun. Watch it here on Netflix.
12. A Christmas Star
A young girl born under a Christmas star believes she has the power to perform miracles, so to prove herself she has to save her town. Watch it here on Netflix.
11. The Princess Switch
This Christmas-y version of The Prince and the Pauper starring former Disney Channel darling Vanessa Hudgens will get your kids in the holiday spirit. Watch it here on Netflix.
10. Mickey's Magical Christmas
After Mickey and the gang get snowed in, Donald Duck turns into a bit of a Scrooge. They decide to throw a Christmas party to cheer him up. Watch it here on Netflix.
9. Mickey's Once Upon a Christmas
In this holiday special, there are three delightful Disney holiday tales: "The Gift of the Magi," "Duck Tales" and "A Very Goofy Christmas." Watch it here on Netflix.
8. A Christmas Prince
A young reporter is sent undercover to get the scoop on a prince who's about to be king. She finds love instead in this charming holiday rom-com. Watch it here on Netflix.
7. The Christmas Project
Four boys are forced to give Christmas presents to their school bullies, but they decide to use this opportunity to get revenge instead. Watch it here on Netflix.
6. Get Santa
Santa is sidelined when he's arrested for trespassing, so a father-and-son team have to fill his role instead in this family comedy. Watch it here on Netflix.
5. George Balanchine's The Nutcracker
If you can't make it to the ballet this year, just watch it on Netflix instead. The New York City ballet performs The Nutcracker ballet with Kevin Kline narrating and a young Macaulay Culkin making an appearance. Watch it here.
4. Beethoven's Christmas Adventure
Lovable Saint Bernard Beethoven has to save Christmas after an elf crashes Santa's sleigh and the presents are stolen by thieves. Watch it here on Netflix.
3. White Christmas
Introduce your kids to this classic holiday movie. Two soldiers-turned-performers fall in love with a pair of sisters in this Christmas musical. Watch it here on Netflix.
2. How the Grinch Stole Christmas
Watch Jim Carrey take a turn as the infamous Grinch in this live-action version of the classic Dr. Seuss story. Watch it here on Netflix.
1. The Christmas Chronicles
Kurt Russell is a straight-talking Santa Claus in this new holiday movie. After crashing his sleigh, St. Nick has to pull an all-nighter to get all of the presents delivered on time. Watch it here on Netflix starting November 22.
This article was originally published on