How to Deal With the Stress of Getting Back to Normal Post-COVID
A psychotherapist helps parents understand keys to communication as COVID restrictions ease.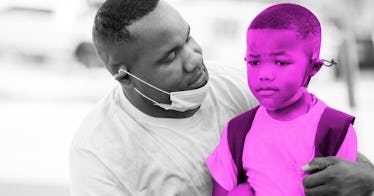 Life is changing again, and it's changing quickly. As more Americans receive the COVID vaccine, more aspects of public life are opening up and coming back, despite the continuation of the COVID-19 pandemic. After months of wondering when life will return to normal, the answer appears to be now. That's not to say everything will be exactly like it was in early 2020. However, with each passing day, the return to normal seems like a given as more activities and spaces are deemed safe. In this landscape of boosters, variants, deepened inequalities and permanently altered daily life, family rules may have to be more fluid to adapt to new freedoms, protocols, and concerns.
The Return to Normal May Be Slow
While it felt like the world stopped suddenly in March 2020, it will take time for life to ramp back up both externally and in our own minds. Psychoanalyst and author Laurie Hollman, PhD, encourages parents to view this summer as a time of transition and emergence for their family. Doing so will help kids with the pace of change while assisting them to remain flexible for the future.
"Our focus as parents shouldn't be our new rigid rule-setting, but instead preparing our children with frequent conversations about how to adapt to a world that changes rapidly," Hollman says. "In other words, it seems to me it's premature to create hard and fast family plans, rules, and expectations."
Create Opportunities to Listen to Your Kids
Your kids may have big feelings that they aren't fully able to express, so it's essential to give them space to share while listening to what they're saying as well as paying attention to their non-verbal cues. "It's an attitude that will allow parents to try to comprehend what's on the child's mind," Hollman says. "What are they thinking? What are they feeling?"
This isn't an easy task for stressed parents adjusting to their own changing reality. Hollman suggests questions that may seem rudimentary but give a window into how your children are processing the opportunities they now have. For example:
What do you expect is gonna happen in the next few months?
What are you going to do over the summer?
Do you think you'll be comfortable seeing other kids without masks on?
Do you want to play a sport or sign up for a particular activity?
Conversations like these will need to be revisited because your child may change their mind or find that new opportunities they thought they were excited about instead make them anxious. There's an onus on parents to focus on flexibility and empathy, especially if it's taking your kid longer to adjust to increased social activity.
"My concern is that parents are going to judge the kids," Hollman says. "Parents who are overwhelmed by all of the decisions they are now having to make may blame the kids or to take their own anxiety out on their children."
A Collaborative Approach to Family Values
The best-case scenario for families is that they make use of this transition time to consider what the difficult past year has taught them about what they value. Hollman emphasizes a collaborative approach between parents and kids, to set expectations as a family. "My hope is that parents will have an openminded attitude, because that will go far in building new family values, or perhaps building on old family values that take into account how children in various ways have been tolerating, struggling, and working towards accepting the unknown," she says.
In no way would one argue that families are better off because they navigated the stresses of a global pandemic. But there have certainly been important lessons learned. Reflecting on those lessons together with your kids and implementing them as a team is a great strategy for growing into the future.
This article was originally published on