How to Know if Your Kid Is Preschool Age
Just because your kid is three-years-old doesn't mean it's time for preschool.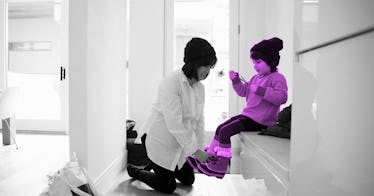 Preschool age is less a concrete number than it is a state of mind. What age do kids typically start preschool? The answer is 3 or 4. But what age should they start? That is something that parents need to take a beat to figure out. It turns out the skills a child needs to cultivate prior to kindergarten are less about reading, writing, and math and more about socializing. In other words, they may know their A, B, Cs, they can rock their 1, 2, 3s, but they still need a little extra emotional support that you can get in child care, but won't be as readily available in preschool.
The misconception that there is an ideal preschool-age rests in a misunderstanding of the difference between quality child care and preschool. "Child care provides preschool, but preschool doesn't provide care," explains Nikki Darling-Kuria, program manager of professional development at child-development nonprofit Zero to Three and author of Brain-Based Early Learning Activities: Connecting Theory and Practice.
Darling-Kuria notes that parents who already have their kid in a good child-care setting may not need to transition to preschool at all. That's because the skills that a child is learning in the child-care setting are very well aligned with the most important skills they will require when they reach kindergarten. "High-quality child care means children are able to receive care but they're getting it in the form of high-quality environments where relationships are key," she says. "Those relationships set them up for good learning for the rest of their life."
Those essential pre-kindergarten skills include the ability to play, communicate, and collaborate with others, the ability to listen to and follow instructions, and the ability to wait in line or sit still. Knowing the alphabet, colors, and shapes, and being able to count often feel important, but research hasn't borne out that these are essential skills for future success. After all, the purpose of kindergarten is to make sure all children have the same foundation before entering the first grade no matter what skills they have developed before kindergarten.
Is this to say preschool shouldn't be a consideration? Not at all. Many preschools offer excellent opportunities to build the social and play skills kids need to be successful. Others are important in that they offer children a faith-based foundation consistent with their cultural expectations. But making the transition to a preschool is less about reaching a preschool age and more about making sure a child has been emotionally prepared to make the transition away from their child-care setting.
Many preschools ask that children have a certain level of independence before entry. They may need to be reliably potty trained, able to feed themselves, or capable of washing their hands. Because children reach these milestones at wildly different ages, it's possible that some children might be ready to enter preschool at 30 months. Other children may not be ready until they are over 4 years old.
More important than skills, however, is understanding whether both children and parents are ready to make a transition. In some cases transitioning a child away from child care that's already providing good social education opportunities can be traumatic. And some parents who have children at home may simply not be ready to separate from their child.
Regardless of age, experts agree that whether a child stays in a high-quality child-care environment or enters preschool, relationships are key. "Find a preschool with low teacher-child ratios so the teacher has time to nurture each individual child," says Christine Kyriakakos Martin, founder and owner of Sunshine Preschool in Hopkinton, Massachusetts, and author of You've Got This! Keys to Effective Parenting for the Early Years. "The most important factor is finding a safe, nurturing environment where your child can feel comfortable to trust their caregiver. Children grow socially, emotionally, and cognitively when they bond with a familiar caregiver."
This article was originally published on