If You're Going to Give Someone a Pet for Christmas, Do it Right
We all love the idea of a surprise puppy bedecked in a big bow on Christmas morning. But it does need to be handled properly.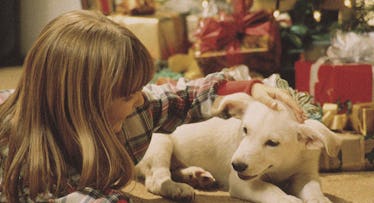 While the image of a puppy bursting out of a box wrapped in ribbon is joyful and undeniably cute, the chaos that surrounds the holiday in the form of noise, visitors, and unfamiliar surroundings may not be the best for your furry new family member. Giving a pet as a gift isn't necessarily a bad idea, says Alyssa Fleck, Media and Communications Manager of the ASPCA. But it does need to be handled properly.
First, and most importantly, you need to talk to your family beforehand to make sure everybody is open to the life-long commitment and responsibility of a pet. At the end of the day, you're not adopting a pet for one person; you're adopting it for everyone. So you should have conversations with everyone about their feelings on a new member of the pack. Outlining responsibilities — like who will walk the new addition each night, who will clean the litter box, and who will feed them morning and night — should be a conversation you have before Christmas morning. And of course, regardless of whether a child is the primary pet owner, you need to be ready to step up as necessary. You and your partner "should be ready and eager to assume care for the animal," says Fleck.
Can talking about the pet beforehand take some of the fun out of the gifting moment? Sure. But it also ensures that the animal is entering a healthy environment. And that's what matters most. After all, this isn't a new bike, or a pool table, or an American Girl Doll. It's a living and breathing mammal who needs love, support, training, and commitment.
That said, once you've decided that everybody in your home is ready for an animal roommate, you should consider what type of home you have during the holiday season. "While some dogs may be more social in new environments, others may be shy and will require time to adapt to their new surroundings," Fleck says. She recommends bringing home any new pet — no matter their temperament — to a quiet and low-key environment. "It's a good idea to go slowly and postpone inviting guests over until the pet is settled in and comfortable."
If your house is the gathering place for your family around the holidays, wait a week or two to bring home a new friend. You can wrap a dog collar for your children to open on Christmas morning, and later, you can all go to the shelter to choose your pet together.
Alternately, if your house is usually empty around the holidays, and you don't anticipate traveling anywhere, it may be a good time to bring Fido home. "This may be the perfect time to adopt if your family has a break from school and work," Fleck says.
The good news behind all this planning is that pet presents generally work out. There's scant evidence that pets who are gifted are returned to adoption shelters. The ASPCA conducted a survey and found that 96 percent of those who received pets as gifts thought it either increased or had no impact on their love or attachment to the pet. The survey also noted that eighty-six percent of pets received as gifts stayed in their original homes permanently. The research contradicts the standings of most adoption- and animal-welfare agencies, who think that owners should choose their own pets instead of receiving them as gifts.
While it's no surprise that the ASPCA also recommends adopting, it's an especially good idea because pet behavior specialists can give you more information on the pet you want to adopt, including where they came from, how energetic they are, and if they are good with children. If you're hell-bent on buying a dog, rather than adopting, the ASPCA also uniformly warns against meeting breeders at off-site or sketchy locations. You should also always meet the pet (and the pet's parents) before you buy so you can make the most informed decision as possible about buying the pet in question.
This article was originally published on