WHO Says Skin-To-Skin Saves Infant Lives, Even During The Pandemic
The organization says keeping mothers and babies together could save more than 125,000 lives.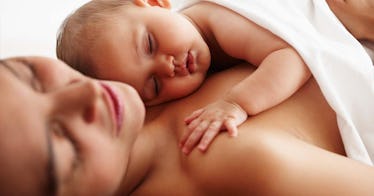 The World Health Organization (WHO) issued a report highlighting the impact the global pandemic has had on the care of newborns. Researchers found that pandemic-related hospital practices have prevented babies from receiving skin-to-skin contact with a parent after birth — and that it's "severely affecting the quality of care given to small and sick newborns, resulting in unnecessary suffering and deaths." The report suggests that even when at the risk of COVID-19, babies should be kept with their mom for skin-to-skin contact.
When a parent has a "confirmed or suspected" infection of COVID-19, research shows that newborns across several countries are being separated from their mothers. This separation, and the resulting lack in skin-to-skin bonding, also called kangaroo care, put the babies at higher risk of lifelong health complications or death, the WHO reports.
According to the organization's statistics, research has shown that skin-to-skin care, which includes early, prolonged skin-to-skin contact with a parent plus exclusive breastfeeding, can reduce infant death by as much as 40%, reduces severe infections by 65%, and hypothermia by more than 70%. These numbers are game-changers, especially in areas where preterm or low birthweight rates are at the highest.
Looking closer at the numbers points to how the pandemic and the restrictions placed in maternity wards, as a result, have a direct impact on newborn care. A review of 20 clinical guidelines from 17 countries found that one-third recommended separating newborns if the parent had a confirmed or suspected case of COVID-19.
The report also found that two-thirds of health care providers across 62 countries didn't allow for skin-to-skin care if the parent had a suspected or confirmed coronavirus case. When it came to breastfeeding, close to a quarter didn't allow for breastfeeding at all, even if the caregiver wasn't infected with COVID-19. But that might not be necessary, the study has found.
"Disruptions to essential health services during COVID-19 have severely affected the quality of care provided to some of the most vulnerable babies, and this includes their right to the lifesaving contact they need with their parents," Dr. Anshu Banerjee, Director for Maternal, Newborn, Child, and Adolescent Health and Ageing at WHO said.
"Decades of progress in reducing child deaths will be jeopardized unless we act now to protect and improve quality care services for mothers and newborns and expand coverage of lifesaving interventions like kangaroo mother care."
What does all this mean exactly? WHO says that by keeping moms and their babies together, even during the pandemic, more than 125,000 infant lives could be saved by not separating moms from their babies. The WHO recommends that mothers continue to share a room with their babies right from birth. Allowing for breastfeeding and skin-to-skin contact should also happen – even in situations where COVID-19 infections are suspected or confirmed.
"Kangaroo Mother Care is one of our most cost-effective ways to protect small and sick newborns," Queen Dube, Director of Health at the Ministry of Health in Malawi, one of the report authors, said. "According to our analysis, these risks by far outweigh the small chance of a newborn baby getting severe disease from COVID-19."
Adding, "Kangaroo mother care is among the best interventions to improve a premature or low birthweight baby's chances of survival, especially in low-income countries."
This article was originally published on