Watch LeBron's Heartfelt Reaction to a Young Fan's Support
LeBron always proves himself as a crucial figure on and off the court.
by Raz Robinson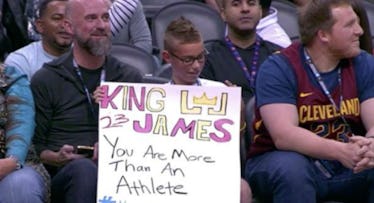 TWITTER
NBA star LeBron James seemed touched when a young fan sitting courtside at a Cavaliers home game in Cleveland held up a sign recenty that read: "King James. You are more than an athlete #NeverShutUp." The sign was a callback and rebuke to "journalist" Laura Ingraham's racially coded suggestion that James should "Shut up and dribble" after the father of three made some unfavorable remarks about President Donald Trump.
After seeing the sign during the final minutes of the Cavaliers bout against the Phoenix Suns, James removed his arm guard and handed it to a Cavaliers security guard to give to the kid, before shooting the boy a thumbs up from across the court.
Beyond being a bit of a genius, cunning business person and a pure family man, James is a bigtime philanthropist. Just last year, the LeBron James Foundation has partnered with the Akron Ohio school board to open the "I Promise" School. The school will target kids who are at high risk of either falling behind or failing out of school completely.
The little boy wasn't the only one who took notice of James' gesture. As video of him giving away the band began to circulate on Twitter, fans from all over heaped praise onto the star.
It remains unlikely that LeBron James shuts up and equally unlikely that he stops being good to children.