For 40K A Month, You Can Have The Most Meta Disney Vacation Ever
How close do you want to get to the origin of all things Disney?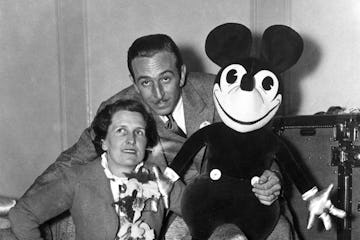 Daily Herald Archive/SSPL/Getty Images
If you're a big Disney fan, there's a new experience you might want to add to your bucket list — but only if you're ready to shell out tens of thousands of dollars a month. The historic Los Feliz, California home that was once owned by Walt Disney himself is now available to rent, People reports.
"This property was chosen by Walt Disney as the place to raise his family, and also coincided with a transition of Disney Studios from fledgling enterprise toward entertainment giant," the listing agent of the property, Chase Campen from Compass, said in a statement about the listing.
"It sits on an acre of land with incredible outdoor space and city views. Its historical pedigree only adds to the magical mystique."
"The majestic home sits atop a gated drive with parking for 10. Rotunda entrance welcomes you into this magical place, and you'll be immediately ushered into the dramatic two-story living room, with vaulted wood beamed ceilings, wood-paneled walls, brick fireplace, and original leaded windows that view the backyard, pool, and downtown LA," Campen's Instagram post about the property noted.
The home features four bedrooms and five bathrooms in the 6,400-square-foot home with grounds that include a Snow White-themed playhouse that Disney built for his daughters, a pool, and a trellis-covered outdoor dining area.
It's all surrounded by mature trees for privacy – and you can now lease it all for $40,000 a month. Per People, the house may just be super inspiring. After all, "classics like Snow White and the Seven Dwarfs, Pinocchio, Dumbo, and Bambi were made while Disney lived in the house."
So, $40,000 a month is some steep rent. The good news is that, for those of us (most of us) who simply can't afford that rent, the owner of the home, Timur Bekmambetov, a Kazakhstan-born filmmaker who purchased the house in 2011, sometimes offers tours to the public. According to the home's Facebook page, the last public tour was in April 2022.
If you're still hoping to give your kids a summer with Disney memories, a trip to Disneyland is way more affordable than renting the mansion, and there are some summer sales you can take advantage of, too.
In May, the park announced a new 4-day, 4-Park Magic Ticket that drops the price of admission by nearly half. For just $99 per day, plus tax, you visit the four theme parks, including Magic Kingdom, Disney's Hollywood Studios, EPCOT, and Disney's Animal Kingdom, visiting one each day on four separate days. It's a savings of approximately $90 per day, depending on the park.
You can check out the full listing of the property on Compass here.