More Vinyl Records Were Sold Last Week Than Any Other Week in the Last 3 Decades
When can we expect cassette tapes to be cool again?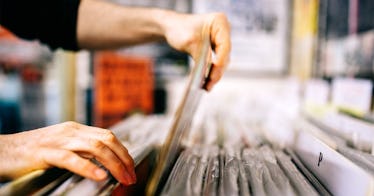 urbancow/Getty
We've all heard the saying that everything old is new again, and that seems to remain true for one music product from the past. According to the Recording Industry Association of America (RIAA), more vinyl records were sold last week than any other in the past three decades.
Though it's not like vinyl ever really fell out of fashion in terms of analog nostalgia (they had much more on the style, and sheer quality, of CDs, for example), it seems like vinyl has officially made a mainstream comeback after recording the best-selling week since the RIAA began tracking vinyl sales data in 1991. 2020 was a kick-ass year for vinyl sales, and 2021 has proven no different. The year was already off to a great start, generating $467 million in the US by mid-2021, doubling the $207 million made at the same point in 2020.
According to Billboard, in the week ending on December 23, vinyl had a record-making sales week, recording 2.11 million records sold, making it the largest sales week for vinyl since 1991. It's a 45 percent increase from the week before, which means it was very likely a Christmas holiday-related boost. Either way, it marked the first time the data surpassed two million in weekly sales.
The main driver of sales was attributed to Adele's album "30," which was the top-selling album that week, moving 59,000 copies, also nabbing the best-selling vinyl album of 2021, selling 293,000 vinyl copies. Others that helped give the week a huge jump were Olivia Rodrigo's "Sour," Taylor Swift's "Evermore," and Billie Eilish's "Happier Than Ever." Weirdly, the Bluey vinyl didn't make the top 10.
In a vindication for the retro-minded among us, vinyl has been outselling CD weekly sales a whole lot this year, too. Since weekly data has been collected, vinyl has only outsold CD weekly sales 28 weeks in total, and 23 of those weeks came in 2021 (the other five weeks happened in 2020).
If you don't have a record player yet, might be a good time to pick one up. Also, it'll be fun to check in the next decade if cassette players make a return, too.