ICYMI: Vin Diesel Walked Paul Walker's Daughter Down the Aisle and the Photo Will Make You Cry
How can we not talk about family when family's all that we got?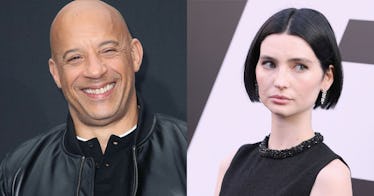 GETTY
Paul Walker's daughter Meadow got married over the weekend, and while her father, who tragically passed away in a car accident in 2013, could not walk her down the aisle, his former co-star and life-long family friend Vin Diesel walked in his place in a moving display of familial love. He is Meadow's godfather, after all.
The 22-year-old newlywed got married over the weekend and posted photos on her Instagram of the ceremony, which included a photo of her and her godfather walking down the aisle together.
While Diesel is not technically related to Meadow, he and her late father became as close as brothers during their time as the two leads in the Fast & Furious franchise. The entire theme of Family was built around the bond between the two and Diesel has made it clear that the love he has for Paul extends to Meadow as well. They have remained close since Paul's tragic death in 2013 and she even has a close relationship with Diesel's kids, including his daughter Pauline, who he named after Paul.
"She's the first person on Father's Day to wish me Happy Father's Day," Diesel said of Meadow in June. "To see her with my children is one of the most beautiful things. There are moments when I see her playing with [my daughter] Pauline and it hits me so deep, 'cause I can only imagine what my brother sees when he sees that."
There has even been speculation that Meadow could officially join the F&F Family by appearing in Fast 10. Diesel even addressed this possibility but would not confirm one way or another.
"I would not count anything out," Diesel said. "Without giving you all of the secrets of Fast 10, let's just say nothing's ruled out."
The heartwarming photo obviously went insanely viral, with over three million people liking it. Thousands of people commented on the post, including fellow Fast & Furious co-star Ludacris, who simply put a crown emoji to celebrate the entire situation.