Verizon's New Smart Family App Lets Parents Limit Screen Time, Track Their Kid
The company announced a big update to their existing parental control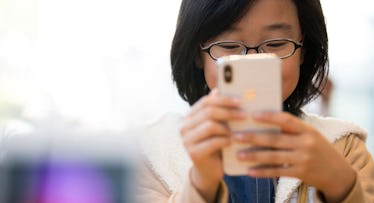 Getty Images
This week Verizon announced the launch Verizon Smart Family, a new parental control app meant to help moms and dads make sure their kids are using smartphones safely and responsibly. In addition to other features, the app will allow parents to filter out inappropriate apps and content, set time limits on their kid's phone usage, and even track a child's location.
Previously, Verizon used FamilyBase as its parental control app. but, given the swelling need parents have for better control over kids' technology, the telecommunications company updated it with new features. The new app retains many aspects of FamilyBase, including the ability to limit data and screen time, but adds several new features, including location services and the ability to monitor specific apps being used.
According to The Verge, up to 10 family members can be signed up for Verizon Smart Family, giving parents the ability to keep tabs on all of their children. Parents can also block or restrict certain websites or contacts for their kids, while having the ability to monitor their kid's text and call history. They can even see how much battery their kids have left on their phone.
The biggest feature is surely the ability to track a child's location. With Verizon Smart Family, parents not only have the ability to track their kid's location at all times, but they can also receive push notifications if the phone leaves an area where they are supposed to be, such as school or a friend's house.
Verizon's Smart Family app is available for both iOS and Android devices. It costs $4.99 per month, but parents hoping to use the app's location services will have to pay the premium price of $9.99 per month.
This article was originally published on