Mom Claps Back as Vanity Plate Laws Cancel the "Milf Mobile"
Should the government regulate parent humor?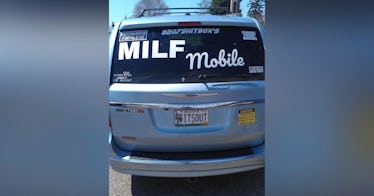 What's the silent, moving version of a dad joke?
The possible answer is a kooky vanity plate. Like Nicolas Cage's snakeskin jacket in Wild At Heart, for some suburbanites, a silly vanity plate is a symbol of individuality and belief in the personal freedom to be absurd. But, in the state of Maine, one hyperbolic parent is getting their fun taken away by the law.
According to The Intercept, a mom who rocks a vanity plate with the words "T*tsOut" on a teal minivan — adorned with a large window sticker that says "MILF MOBILE" — is being told that her vanity plate is now…illegal.
Now, before you get too judgy, the person in question doesn't have the "T*tsOut" vanity plate because she likes to flash people. For the mom in question, Britteny Glidden, "T*tsOut" is an inside joke about the fact that "I exclusively breastfed all four of my children," and for a very long time, she felt like, well, her breasts were simply out in public a lot. We all know shaming public breastfeeding is terrible, but what about shaming people for making jokes about it in, admittedly, tacky vanity plates?
Apparently, it all comes down to a fine line of decency laws and government regulation. Although Glidden is clearly in on the joke of her vanity plate, a new push in the state of Maine argues that not everyone with questionable vanity plates is acting in good faith. Although the vanity plate program brings in a ton of revenue to the state of Maine, a state senator named William Diamond wants to repeal a 2015 law that disallowed the secretary of state from vetoing certain vanity plates for going too far.
Basically, Diamond thinks vanity plates like "T*tsOut" have gone too far, and thinks the local government should be able to recall those plates. According to the Intercept, Diamond says, "I'm no prude or interested in letting Big Brother run our lives…This is not an attempt to implement strict puritan guidelines. … There are plenty of opportunities for free speech."
Still, Glidden's MILF mobile is in the crosshairs. And, this mom, apparently, isn't going to give up her personal inside joke to the government, even if they do claim they're not some kind of Orwellian authority. Glidden has accused anyone in favor of the new guidelines of being a bunch of "Karens," and she "won't be giving my plate back," because, "The MILF Mobile will never be canceled."
This article was originally published on