Wait, Are We Really Getting Vaccines for Our Under 5 Kids Next Month?
Protection for our youngest kids might be just around the corner.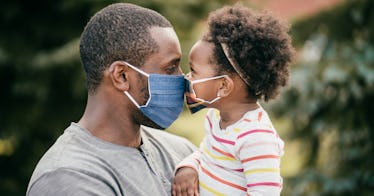 kate_sept2004 / Getty Images
Vaccines have played a pivotal role in fighting the COVID-19 pandemic. These vaccines have proven overwhelmingly effective at preventing illness and keeping people who do get COVID out of the hospital, helped keep our most vulnerable safe, and allowed us to get some normalcy back. Although vaccines have been approved for kids 5 and older in the United States for some months, parents of younger kids are still waiting for COVID vaccine approval to protect their kids 4-years-old and younger. It sounds like that protection isn't too far away, and it would come at the perfect time when parents could really use a sigh of relief.
Dr. Anthony Fauci, director of the National Institute of Allergy and Infectious Diseases and the White House's top medical adviser, said on January 19, 2022, that the Pfizer and BioNTech COVID vaccines for kids 4-years-old and under could be approved by the Food and Drug Administration (FDA) by the end of next month, according to Fortune.
"My hope is that it's going to be within the next month or so and not much later than that," Fauci said during a town hall event with Blue Star Families, a non-profit group that supports military families. He added, "but I can't guarantee that."
The timeline for COVID vaccine approval for the only age group that doesn't have an authorized vaccination against COVID in the U.S. isn't set in stone. Still, it aligns with the timeframe estimates we heard in December.
At the end of 2021, Pfizer and BioNTech said they were likely to submit the data from vaccine trials for kids under five within the first half of 2022. The vaccine manufacturer had originally planned on offering these kids a two-shot schedule but extended the trial to investigate a three-shot schedule after the two doses didn't show a robust enough immune response in two-to-four-year-olds.
The approval of a vaccine for the younger age group coming at the end of next month would be fantastic timing – and likely lifesaving for some kids who still don't qualify for a COVID vaccine. More kids are getting sick with COVID than ever — in the week that ended with Jan. 13, over 981,000 child COVID-19 cases were reported in the U.S. That's nearly a 70 percent increase from the previous week. It is also, per the American Academy of Pediatrics, four times higher than last winter's peak, which was no joke, either.
And it's not just kids testing positive for COVID: the Centers for Disease Control and Prevention (CDC) has reported increased hospitalization rates for kids under five after the Omicron variant became the most dominant variant in the U.S. If the timeline works out and the vaccine is granted emergency authorization at the end of next month, parents will undoubtedly breathe a little easier. And we could all use that right now.