February Vaccines? Pfizer Files for 5 and Under COVID Vaccine
Kids under five years old could soon have a authorized vaccine against COVID-19.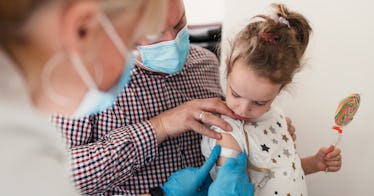 Dobrila Vignjevic / Getty Images
Parents of kids from six months to 5-year-olds can soon breathe a sigh of relief after nearly two years of a pandemic that's shifted nearly every aspect of our lives. COVID-19 vaccines were a monumental scientific undertaking and a huge step in the right direction in steering ourselves out of the most dangerous parts of the COVID-19 pandemic. Unfortunately, those vaccines have largely been authorized only for adults, with COVID-19 vaccines for kids 5-11 being authorized only three months ago.
For parents of toddlers and young kids, the wait for a vaccine for kids under 5 has been long and arduous. But thankfully, the last piece of that puzzle is just around the corner. Pfizer has filed for authorization of its COVID-19 vaccine for kids under five years old. And that authorization by U.S. regulators could be here by the end of February. Here's what you need to know.
When will the Pfizer vaccine for kids under 5 be available?
Pfizer-BioNTech submitted for authorization of the COVID-19 vaccine in use of kids under 5 on February 1, 2022. According to NPR, the vaccine will be filed for use in kids between the ages of six months to five years.
Historically, the vaccines have been approved within just a few weeks of filing for authorization. That means that the vaccine will likely be ready for rollout in this age group as early as the end of the month.
How many doses are needed for kids under 5?
Data from Pfizer's vaccine trial for kids between six months and five years old shows that two doses of a 3-microgram vaccine generated an adequate immune response for kids up to two years old. However, the kids between 2 and 5 years old didn't have as much protection from that two-dose regimen, so trials continued, adding in a third dose.
Data on the third dose for the kids between 2- and 5-years-old won't be available until March, so the vaccine will initially be authorized for just two doses. After that, however, the plan will likely be to add a third dose when data is available.
"We know that two doses aren't enough, and we get that," a source familiar with the situation told The Washington Post. "The idea is, let's go ahead and start the review of two doses. If the data hold up in the submission, you could start kids on their primary baseline months earlier than if you don't do anything until the third-dose data comes in."
Why is it so important to get kids five and under vaccinated?
Although fewer children are getting critically ill due to COVID-19 than older age groups, vaccination for children helps keep the numbers of circulating cases down, which slows the spread of the virus.
However, experts are worried that the under-five age group will have low levels of vaccinations, like the six to 11 age groups, which have had an authorized vaccine since November 2021.
"The key question is whether the parents of younger children will get their kids vaccinated," Celine Gounder, M.D., a clinical assistant professor at NYU Langone Health, told NPR. "Parents are relatively more hesitant to get their young children vaccinated than themselves."
Data has shown, in all age groups, that vaccination helps curb the most severe symptoms of COVID-19 that are more likely to lead to ICU admission and death.