The Final Meteor Shower of the Year Peaks on the Winter Solstice
Don't miss the Ursid meteor shower.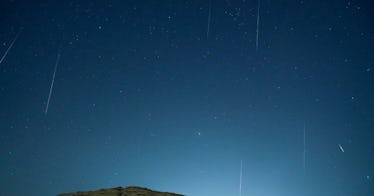 GETTY
The final meteor shower of 2021 is happening this week, so close out your year with one more celebration of the wonderfully weird sky that shines above our heads by checking out the Ursid meteor shower, which is currently making its annual showing. Here is everything you need to know to maximize your viewing experience.
What Is the Ursid Meteor Shower?
A relatively new meteor shower, Ursid was discovered around the turn of the 20th Century and, as you may have guessed by its name, reaches its radiant point around Ursa Major and Ursa Minor (also known as the Big and Little Dipper). It's not the flashiest of meteor showers, as you will likely only see about 5-10 meteors per hour of watching. Though, there are occasional outbursts where you can see up to 30 meteors in an hour.
When Is It Happening?
It's already happening! The Ursid meteor shower runs every year from about December 17-26. The good news is that the meteor shower's peak likely has not happened yet, giving you the perfect opportunity to check out some totally awesome meteors. It is believed that Ursid will peak in the early hours of the Winter Solstice, on the night of December 21. Festive!
How Can I See It?
All you really need is to find a place where light pollution won't hinder your view of the sky. No tools or equipment is necessary, as the meteors will be visible to the naked eye. Unfortunately, the peak will likely be past your bedtime into the morning hours of the 22nd, so you need to be willing to stay up (maybe wrapping Christmas presents?) if you're hoping to get the best viewing of the shower.
When Is the Next One?
Part of why you don't want to miss Ursid is because it might be a while until you really get to see a proper meteor shower. The new year will start off with a bang with the Quadrantids meteor shower but while it's typically one of the brighter showers, it only peaks for about six hours the night of the new moon on the morning of January 3. After that, there isn't expected to be another meteor shower until the Lyrids in April.
This article was originally published on