Yes, You Still Need to Mask Up in These Places, CDC Map Shows
Masks continue to play a key role in reducing COVID spread.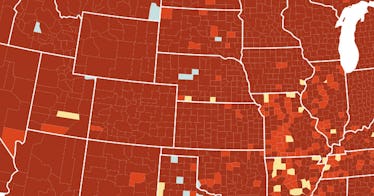 CDC
There's been plenty of good news in the fight against the COVID-19 pandemic in the United States — especially the recent news that kids ages 5 to 11 are now eligible for the COVID-19 vaccine. And although more people continue to get vaccinated, the pandemic still isn't over — and updated CDC data shows that most Americans should still be masking up when in indoor, public spaces.
Back in July, the Centers for Disease Control and Prevention (CDC) issued data and an easy-to-read map to show which areas in the country people need to continue to wear face masks when they're in crowded situations or indoors — like at a coffee shop or the grocery store. Unvaccinated people should always wear masks indoors in public. But in some situations, fully vaccinated people can go mask-free.
Fully vaccinated people are being asked to keep their face masks on when indoors only if they live in a place with "substantial" or "high" coronavirus transmission. Unfortunately, there are many, many places in the United States with those two rates of transmission. Thankfully, the CDC has a handy easy-to-read map that outlines the status of transmission is where you live. This CDC map is updated daily.
The CDC classifies a county as being at "substantial" risk of transmission if there are 50 to 99 weekly cases of confirmed COVID per 100,000 residents, or if the positivity rate is between 8.0 and 9.99 percent in the last seven days.
A county is classified as "high" risk if it has 100 or more weekly cases of confirmed COVID per 100,000 residents, or if there's a 10 percent or greater test positivity rate over the last seven days.
In counties with either substantial or high spread, both vaccinated and unvaccinated residents are told to mask indoors and limit contact between people to help reduce the spread of COVID.
"This was not a decision that was taken lightly," said CDC's director, Dr. Rochelle Walensky, on why indoor masking is now back in the guidance, even for vaccinated people. She said that the data collected over the summer points to evidence that fully vaccinated people can still become infected and spread the virus.
"On rare occasions, some vaccinated people infected with the delta variant after vaccination may be contagious and spread the virus to others," she said while speaking to reporters. "This new science is worrisome and, unfortunately, warrants an update to our recommendations."