How Much Is the 1996 Mario 64 Worth? Apparently, 1.5 Million Bucks
This is a piece of plastic, to be clear.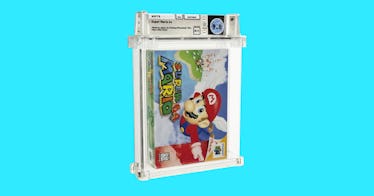 Heritage Auctions, HA.com
Did you play video games back in the 90s? If you did and you still have your old collection of games sitting in a box in your garage, you may want to give them a look. If you have the right game in the right condition, it could end up making you a millionaire overnight.
An unopened copy of Super Mario 64 sold at Heritage Auctions in Dallas on Sunday for $1.56 million, breaking the previous record to become the highest price for a single video game in history. Super Mario 64 was the first game ever to sell for over a million, as an unopened copy of Nintendo's The Legend of Zelda held the previous record for a grand total of two days, selling for $870,000 on Friday.
Valarie McLeckie, Heritage's video game specialist, said that the auction house was surprised to see a game get purchased for more than a million dollars. Though, if any game was going to break seven figures, it makes sense it would be Super Mario 64, given its massive cultural impact.
Super Mario 64 was groundbreaking at the time of its release, as it was the first Super Mario game to feature 3D gameplay. It became a massive hit with fans, as Super Mario 64 was the best-selling video game in the United States between 1995-2002, selling nearly six million copies. Critics have often cited it as one of the greatest and most impactful video games ever made. The success of the Nintendo 64 is directly tied to Super Mario 64, which was one of three games released during the console's launch.
This level of commercial and critical success is a big part of what made this unopened copy of Super Mario 64 so valuable, as it's become an invaluable piece of the history of gaming and would be an unbelievable addition to any gaming aficionado's collection.