Twitter Thread About the Grinch Filled With Hilarious Truth Bombs
Did the Grinch really steal Christmas or did he liberate the Whos from their own greed?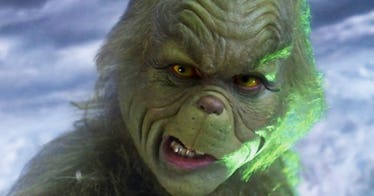 Universal Pictures
Now we all know that the Grinch was a small-hearted misanthrope who committed one of the most vile heists of all-time before finally learning the true meaning of Christmas. But what this viral tweet thread presupposes is… maybe he wasn't?
Writer Hanif Abdurraqib shared his hilarious perspective on How the Grinch Stole Christmas, starting with the fact that the song "You're a Mean One, Mr. Grinch" is one of the most brutal diss tracks ever recorded and goes way overboard in taking the green guy down.
The song really pulls no punches, taking shot after shot at the Grinch for being "a bad banana with a greasy black peel" and having a brain filled with spiders. One person on Twitter asked how it compared to other classic diss tracks like "Ether" and "No Vaseline" but a reply declared this above all of those because "Grinch never even came with the reply track. He got bodied and knew it."
All of this seems to be fair game because the Grinch, of course, steals Christmas. But Hanif then posits the idea of a re-imagining of the classic Dr. Seuss story in which the Grinch is seen as a hero instead of a villain.
Honestly, this sounds pretty great to me. It could be like the Grinch's version of Wicked, where we see that the hairy green loner was actually trying to help free the Whos from their consumerist greed while also attempting to resist assimilating to a culture that marginalized him for having a perspective different from theirs. Suddenly, the Grinch is a Robin Hood-esque figure who maybe even delivers Whoville's things to Grinchville or where ever he is originally from.
But until that movie gets made, the Grinch will just have to continue living in a world where every year a hit song spends six verses absolutely roasting him like chestnuts on an open fire. Including the fact that someone called his soul "an appalling dump heap."
There's even some reason to doubt whether or not it's truly a Christmas song at all.
Either way, it's a holiday classic (maybe a little bit like how Die Hard is a Christmas movie) and we are happy to enjoy it.