CDC Approves Trick-Or-Treating, As Long As You Do This One Thing
It's time to solidify your costume ideas!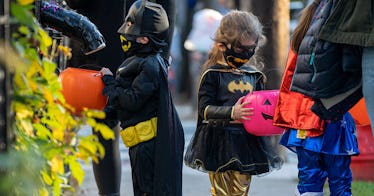 GETTY
Halloween is just around the corner and this year is already gearing up to be better than last. Trick-or-Treating is back on and here's what parents need to know.
Last year, the Centers for Disease Control and Prevention (CDC) warned against kids and parents participating in the yearly trick-or-treat tradition. With the pandemic entering its first fall where cases were expected to rise, experts cautioned parents about going through with typical Halloween activities.
It wasn't ideal, obviously, but it was deemed necessary at the time. Many people DIY'd treat chutes and parents set up at-home Halloween games for their kids. But this year will be super different.
That's because, thankfully, this year the CDC isn't making the same recommendations. There are a couple caveats, however, trick-or-treating should be fine, according to Rochelle Walensky, the director of the CDC, said.
"I certainly hope so," Rochelle said when asked whether it's safe for kids to return to trick-or-treating this year. "If you're able to be outdoors, absolutely," she said.
Of course, it's not recommended under all conditions. The CDC says that parents and kids should still "limit crowds," and be choosy over what activities you take part in.
"I wouldn't necessarily go to a crowded Halloween party, but I think that we should be able to let our kids go trick-or-treating in small groups," Rochelle said. "I hope that we can do that this year."
The CDC director also encouraged parents and kids to keep social distance, wash their hands, and get vaccinated or a booster, if available and eligible. Currently, kids under 12 years old are not eligible to receive a vaccination against COVID-19, however, there might be an option before the end of the fall. The chances of a vaccine receiving emergency approval for kids by Halloween are not zero.
But thankfully this year will be a little more normal than last year. Time to narrow down a costume idea.