Biden's Title IX Guidance On Trans Kids Playing Sports Has One Very Big Problem
Making heads and tails of the new, loophole-filled Title IX guidance.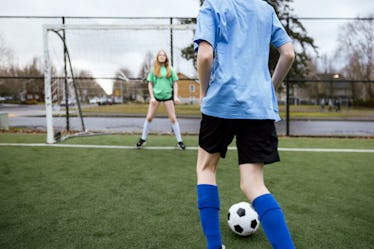 RyanJLane/E+/Getty Images
On April 6, 2023, President Biden announced a new Title IX proposal that, if adopted, would not allow schools that receive federal funding to impose blanket bans disallowing trans athletes from participating in sports. But the wording left a lot of wiggle room, essentially allowing schools to prohibit trans athletes from playing on teams that align with their identity due to "highly competitive settings," or where there is a "serious risk of injury." The language has many parents, child development and legal experts, and LGBTQ+ advocates crying foul.
For many of these critics, the new proposal represents a step backward from a 2021 executive order President Biden signed that would prohibit discrimination against kids for their sexual orientation or gender identity. That order, which also asked government federal agencies to review their own policies on gender and sexual discrimination for all Americans, stated: "Children should be able to learn without worrying about whether they will be denied access to the restroom, the locker room, or school sports... All persons should receive equal treatment under the law, no matter their gender identity or sexual orientation."
This new order ostensibly builds on this, making it explicit that states can't put blanket bans on trans kids playing sports — at least 21 states currently wholesale ban trans students from participating in sports consistent with their gender identity. But it also provides glaring exceptions that lead some experts to predict the bans will exist regardless.
In a summary of the proposed rule, the Department of Education says that if the new rule were to take effect, "schools would not be permitted to adopt or apply a one-size-fits-all policy that categorically bans transgender students from participating on teams consistent with their gender identity."
It would also "allow schools flexibility to develop team eligibility criteria that serve important educational objectives, such as ensuring fairness in competition or preventing sports-related injury. These criteria would have to account for the sport, level of competition, and grade or education level to which they apply."
As a result of the new rules, the Department of Education expects that elementary school-aged students will likely be able to participate in any sport and that it would be "particularly difficult for a school to justify excluding students immediately following elementary school from participating consistent with their gender identity." But what about older kids?
"For older students, especially at the high school and college level, the Department expects that sex-related criteria that limit participation of some transgender students may be permitted, in some cases, when they enable the school to achieve an important educational objective, such as fairness in competition, and meet the proposed regulation's other requirements." In other words, ultimately, it would be up to the school to determine which sports are regulated in these cases. And that's where experts have problems.
Once the Title IX proposal is added to the federal register, the proposal will be open to public comment for 30 days before the Department of Education makes a final decision.
The proposal comes at a time when transgender people across the country are facing an onslaught of discriminatory laws, many of which relate to sports participation. These bills are pushed forward despite the fact that there is no scientific evidence suggesting being trans gives these athletes an automatic advantage over their cisgender competitors, and they come at the expense of a small number of trans youth athletes nationwide, most of whom simply want to participate fully in their lives alongside their friends.
There is variation in the athletic ability of transgender athletes, just like there is in cisgender athletes. In fact, some cisgender athletes such as Michael Phelps — who has a massive wingspan, long torso and short legs, hyperextension in his joints, and more ankle flexibility than other swimmers — have a biological advantage that is often celebrated, not listed as a reason for penalization or prohibition from their sport.
As sports journalist Frankie de la Cretaz points out in The Nation, sports are inherently unfair (as demonstrated by the Phelps argument). Additionally, they add, the Biden administration's argument that the new proposal would address safety concerns caused by the participation of trans athletes is nonsensical. A larger, stronger cis female athlete would still be able to participate in women's sports and could potentially hurt smaller athletes, whereas a small trans girl or woman could be even less a risk to cause injuries.
And in states that have banned trans kids from playing sports, in almost every case, "sponsors cannot cite a single instance in their own state or region where such participation has caused problems," according to a 2021 article by the Associated Press.
Even if the science were settled on the issue, at the end of the day, legal experts such as Sasha Buchert, a senior attorney at Lambda Legal, an LGBTQ+ civil rights organization, think that allowing some bans to take place in instances of "competitive" sport could lead to blanket bans anyway.
"The people that are seeking to prohibit trans people from participating would absolutely seek to apply this across the board," Buchert told The New York Times. They "would make the same arguments — whether we are talking about a 6-year-old playing soccer or someone playing varsity volleyball."