Ready for "Small Toy Season?" Holiday Gifts Will Be Different This Year
A pandemic, supply chain disruption, and rocketing prices are having a big impact on kids.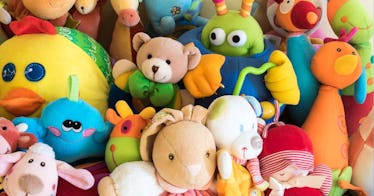 The holiday season is just around the corner. If you're already panicking about getting everything done beforehand, we have some bad news. Big, hard toys might be hard to come by this season – for a number of – but stuffed toys don't seem like they're going to be a problem… so hopefully, your kid is still into stuffed animals.
According to CNN, there are a few reasons toys will be hard to come by this holiday season – and why stuffed toys might be the saving grace of Christmas. Jay Foreman, the chief executive of toymaker Basic Fun, told CNN that a lack of space on shipping containers paired with the wild expenses of shipping if space is found has impacted typical toy supply chains for the worse (that is, if your kid is into complicated, large toys.) And while Biden is desperate to fix the supply chain for the holidays, it may not happen.
Foreman explained that the company didn't have any restrictions or hang-ups in shipping whatever it wanted in past years. But this year, that wasn't possible due to the broader supply chain issues. So they had to shift gears. And soft stuffed toys make more sense.
"It's a simple case of how much sales volume fits in the container when containers are hard to come by," he said, adding that when it comes to those smaller soft toys, "the packages are the size of a golf ball."
As lockdown restrictions and pandemic employment conditions have begun to shift around the globe, demand for goods has skyrocketed. Those disrupted supply chains are struggling to keep up.
"This has led to chaos for the manufacturers and distributors of goods who cannot produce or supply as much as they did pre-pandemic for a variety of reasons, including worker shortages and a lack of key components and raw materials," CNBC reports.
Toy companies are included in the supply chain crisis, and Basic Fun isn't the only one struggling. Business Insider reports toys "have been one of the worst-impacted categories by the supply chain crisis." Adding, "Delays, shortages, and rising costs meant that toymakers have reported millions of dollars worth of products being stuck in factories or in containers on ships, unable to get to where they need to be."
MGA Entertainment, one of the world's largest toymakers, including the Little Tikes and L.O.L Surprise! brands said it typically spends about $2000 for a single shipping container to move its products. However, this year that same container is costing $20,000. That massive price increase will make Christmas or any winter holidays an especially weird time.
Experts are warning parents to start their holiday shopping much earlier this year. And some of the toys on our kids' lists may not be possible to get in time – and if you do, they'll likely cost more. Check out Fatherly's guide on how to avoid toy holiday supply chain issues. Also, if you can give subtle hints to your kids to favor soft stuffed toys instead of things like LEGO, that might help make things a whole lot easier. And remember that shopping local rather an online will help you and your local economy.
This article was originally published on