Toy-Related Injuries Have Sharply Declined for Kids, But These Toys Cause Most Risk
Toddlers are at most risk of injury, but numbers have dropped overall.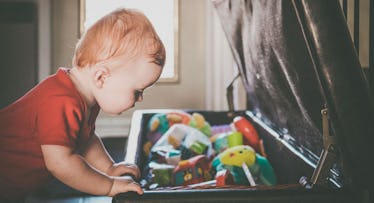 We've all heard stories of parents taking their kids to the hospital when a Lego piece got stuck in their nose. Or someone who's nursing their child's broken arm after falling off their skateboard. These accidents happen – it's a part of raising kids. And while toy-related injuries are declining, some toys pose the most risk. Here's what parents need to know.
\LendingTree insurance research site ValuePenguin commissioned Qualtrics Analysts to compile data from the National Electronic Injury Surveillance System (NEISS), which is available through the U.S. Consumer Product Safety Commission, to find the number of people treated in emergency departments for toy injuries.
According to the data, the good news is that there has been a sharp decline in the number of toy-related injuries. "There were nearly 165,000 toy injuries in 2020 that sent people to an emergency department, a 27 percent drop from 2019," the analysis says. And this drop has been happening for a few years. "The number of toy injuries treated in emergency departments fell from 252,250 in 2011 to 164,715 in 2020 — a drop of 35 percent," the analysis continued.
While it's great news that there are fewer and fewer toy-related injuries sending people to the hospital, some toys tend to cause the most risk, according to the collected data.
According to NEISS data, one toy leads the pack in terms of injuries – Unpowered scooters. These include Razor scooters, three-wheel scooters, freestyle scooters, kick scooters, and kickboards. "Since 2011, 477,082 injuries have occurred on these types of nonmotorized devices," it's reported.
The good news is that the number of injuries related to unpowered scooters is trending down, too. "From 2011 to 2013, there were nearly 60,000 related injuries a year, on average," ValuePenguin reports. "Yet between 2018 and 2020, that average went down by almost 50% to around 31,000 a year."
Toy-related injuries: Toys that pose the most risk
Unpowered scooters with 190,131 injuries reported; an 81 percent decrease in injuries since 2011.
Balls; not specified with 108,386 injuries reported.
Toy vehicles; not ride-along with 59,712 injuries reported.
Building sets with 48,638 injuries reported.
Flying discs and boomerangs with 35,913 injuries reported.
Games or game parts with 34,159 injuries reported.
Dolls, plush toys, and action figures with 29,669 injuries reported.
According to the report, the age that kids are most at risk for toy-related injuries is probably in line with what the average parent will tell you. Toddlers between the ages of 1 and 3 are the age group with more reported injuries. "Between 2016 and 2020, children in this age range had an annual average of nearly 60,000 toy-related injuries," the report states.
Parents can start to relax a bit once their kid turns seven years old because yearly injuries related to toys begin to drop off from that point on.