Tonight's Summer Solstice Features A Rare Three-Planet Alignment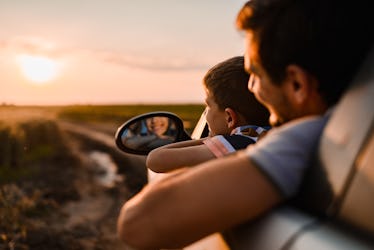 SanyaSM/E+/Getty Images
The Summer Solstice is finally here! Its arrival brings the first true taste of summer. That's because the Summer Solstice is the official start of summer, and although that alone is enough to celebrate with the kids, we're also going to be treated to a "cosmic trio" of the Moon, Mars, and Venus in the night sky on the same night of the longest day of the year. Here's everything you need to know — including what the cosmic trio is, and how to catch it.
What is the Summer Solstice?
The Summer Solstice is technically the exact time when the Sun is at its highest point in the sky, which happens once per year. It's also the day that's considered the longest day of the year since we'll experience the most hours of daylight we will have all year.
When is the Summer Solstice?
This year, the Summer Solstice technically starts today, Wednesday, June 21, at 10:58 a.m. EDT., according to The Farmer's Almanac.
What is a 'cosmic trio?'
According to EarthSky.org, on the eve of the Summer Solstice, well after the sun has set, we'll also be able to see a "cosmic trio," as Venus, Mars, and the Moon will all align in the night sky.
"As you wait through one of the longest days of the year in the north for the sky to darken, you'll first spot the crescent moon, followed by the bright light of Venus," the site explains. "Once the sky is a bit darker, you'll finally spot the last member of this cosmic trio, reddish Mars."
To find the planets up in the sky is pretty straightforward — with the naked eye, you can spot the crescent moon. From there, you should be able to spot Venus, which will simply look like an incredibly bright star, and Mars, which will have a reddish hue. If you're still not sure what you're looking for, these astronomy apps can help you find the celestial bodies.
If you want to ensure you don't miss the "cosmic trio," you can check TimeandDate.com to get the peak viewing time for your location. You can also check theLiveSky.com to find where in the sky you should aim your focus to spot the trio to be extra safe.
Happy stargazing!