The Best Astronomy Apps For Families, According To Astronomers
If your family loves to gaze up at the night sky, these apps can help.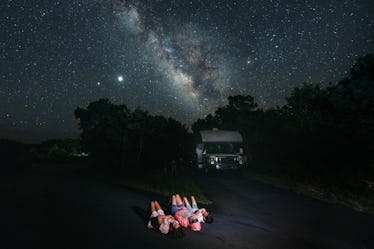 ferrantraite/getty
We may receive a portion of sales if you purchase a product through a link in this article.
Stargazing is one of the most underrated pastimes for families. It's educational — kids get to learn about the solar system in a fun, hands-on way and grow their love for science. It encourages the whole family to get outside and spend time in nature. It's great family bonding. Not to mention that the kids will be excited to stay up past their bedtime, when it's dark enough to see the stars. It's just a bonus that stargazing is a largely screen-free way to keep kids entertained.
That doesn't mean you have to put away your phone completely, however. There are some apps every amateur astronomer should download so they can figure out where in the sky they should be looking — and what they're looking at. Astronomy apps can also help with planning your stargazing adventures so you know the best time to set up in the backyard, a nearby park, or even take a trip outside the city to get away from light pollution. Some apps even help preserve your night vision so you're better able to see stars, planets, and meteor showers.
To pick out the best astronomy apps, Fatherly talked to Bart Fried, executive Vice President of the Amateur Astronomy Association of New York, and Matthias Schmitt, an astronomy educator at Cedar Breaks National Monument and executive producer of Space Racers, an animated series for preschoolers about the solar system. Here are their top recommendations for astronomy apps for families.
Planetarium-Style Astronomy Apps
Moon Apps We're Over the Moon For
Practical Astronomy Apps