TikTok Dad Goes Viral For Hilariously Impersonating His Preteen Son
We don't know Carson, but we *know* him.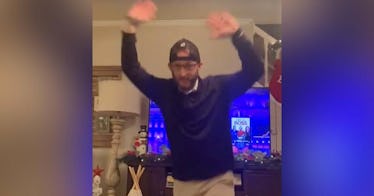 One of the best things we get to do as parents is playfully messing with our kids. There's a whole joke-genre just for dads, and there's a lot of demand for this light-hearted fun. Playing harmless pranks, telling pun-filled jokes, and imitating our kids can be the mood-lightener we all need. And a TikTok dad has gone viral for doing just that by trolling his pre-teenage son.
Brandon Floyd is a husband, father of 3 boys and 1 girl, and a sensation on TikTok now, too after the hilarious dad caught the attention of millions of people with a spot-on series on the social platform. The dad is playfully trolling his 12-year-old son, Carson, by perfectly impersonating the preteen.
Floyd, dressed in either chino pants or grey sweatpants, a sweater like a black hoodie, and a hat worn backward, the dad perfectly mimics his son's mannerisms and how he talks. Boys of this age have a lot of energy, and Floyd matches it perfectly. They seem to be bursting with it, and as a result, they can't do anything without some blasts of movement that defines this age group.
In the first video of the series, Floyd bounces down the stairs, kicks off the front door, and pounces to the kitchen. From there, he's told to do the dishes, so he purposely runs into the counter and dramatically throws himself down on the floor, and has a preteen tantrum. Brandon then tries and to get a parent's attention but later totally ignores mom when she tells him it's dinnertime because he's "in the top three" of his video game.
In his other videos in the series, the dad acts as Carson in various other situations. He pretends to be Carson as he gets up for the day to get ready for school, mimics the strange way he "sits still" to watch TV in the living room and brushing his teeth, complete with spray all over the mirror.
The videos clearly resonated with people, and each of the series has racked several million views each. People took to the comments to praise the dad on the preteen accuracy he was able to mimic. Complete with the out-of-this-world energy we see take place in the footwork alone.
For anyone who doesn't believe Carson is really like what dad shows in real life, Brandon posted a complication video titled "acting like my 12 year old son vs my 12 year old son." And, yep, dad nailed it. In these extremely boring times, the laughs are much-needed, so go on, take a break and have a belly laugh.