Viral TikTok of Son's Adoption At Mom's Wedding Will Make You Happy Cry
The kid cannot contain how excited he is as he holds back tears.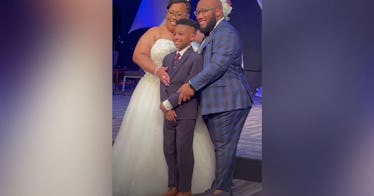 A wedding is always a special day but one couple's recent wedding had a very special twist that has caused everyone on TikTok to melt into a puddle of happy tears. The bride-to-be in the video is a single mother to a young boy, and alongside her wedding day, her new husband also officially adopted her son on their wedding day. Her son had a tear-filled reaction that is guaranteed to make you cry too.
"So my cousin got married today and her now-husband adopted her/their son," TikTok user jalaecoleman wrote in the video caption.
After the newlyweds took a photo with their son, the newly adopted boy was asked about how he was feeling following the wedding and official adoption.
"Man, I'm alright," he said, choking back tears.
The look on his face told a different story, as it was clear he was much more than alright. You can tell he is overcome with emotion as he has a massive smile on his face while he is holding back tears. He is then asked to hold up his adoption certificate and he completely loses the ability to hide how close he is to crying. You can tell this day means as much to him as it does to his mom and newly adopted dad and the genuinely touching response has resonated with hundreds of thousands of people online.
"Congratulations to the Edwards family!" they wrote.
The heartwarming video quickly went viral on TikTok, and thousands of viewers have also commented about how moved they were by the kid's emotional reaction to being adopted and seeing his mom get married.
"Just changed that boy's future," one commenter wrote. "To have a father figure who wants you to be the same [as] his blood is something rare and special!"