The Most Old-Fashioned Baby Girl's Name Is Back — And It's Giving Us '80s Vibes
Though it's got 19th-century roots, this nickname rose to greatness along with one of the comedic geniuses of our time.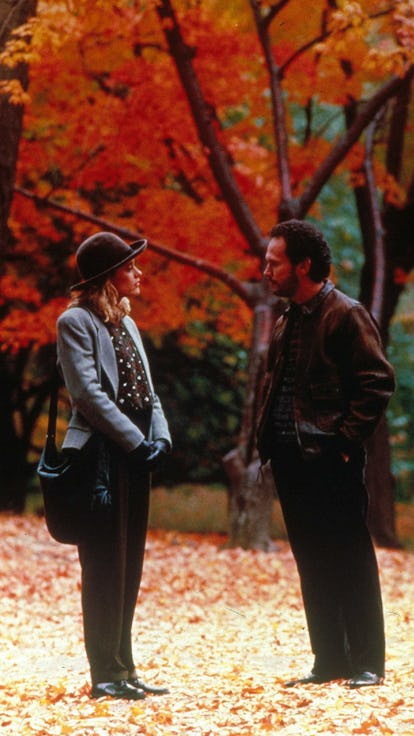 Moviestore/Shutterstock
So you're on the baby name hunt. Do you want a name that's trendy, like Marlowe, or one that exudes timeless elegance, like Etta? Or, do you want a name that's a little bit of both? That's elegant, old-school, but also trendy as heck? Then look no further than "Nora," a name that dates back to the early 1900s, has major '80s romcom vibes, and holds all of the qualities of the perfect modern name for a baby.
While Nora has enjoyed nationwide popularity for a few decades — in 2022, the name was the 28th most popular baby girl name in the U.S. — it's especially popular in a few states right now: in Minnesota, the name was ranked 5th in 2022 and landed in 3rd place in North Dakota. In Washington, D.C., Nora was the 4th most-popular name in 2022.
But popularity aside, the name also has an absolutely stellar pop-culture reputation. After all, who do you think of when you think of Nora? Some might think of Nora Ephron — the iconic screenwriter, journalist, director, playwright and author who was behind Sleepless in Seattle, When Harry Met Sally..., You've Got Mail, Julie & Julia, and, of course, Heartburn. In short, 'Nora' is the name behind some of the greatest films and most iconic romcoms of the '80s and '90s — whose influence goes way beyond their original decades. And those movies are total vibes — of '80s coziness, fabulous outfits, beautiful kitchens and rent-controlled apartments, of fun, quirky love stories about great characters falling for each other on long walks through the snow and over AOL e-mail exchanges.
But even if you aren't a Nora Ephron fan (which, if you aren't, what's wrong with you?) the name also has other great associations: Norah Jones, for example, and indie-darling movie favorite, Nick & Norah's Infinite Playlist.
According to Nameberry, Nora (a.k.a Norah) is an Irish name that means "light," but it has at least two origin stories: Nora is a diminutive of both Honora, which means "honor," and Elenora, a variation of Eleanor, both beautiful names in their own right.
Nora's popularity climb makes sense when we look at other baby girl names that are trending today. Short names with a lot of vowels are super popular right now. Consider the popularity of Ava, Emma, Mia, and Luna, all of which share a similar sound and style.
But only one of those names — Nora — is associated with the brilliant mind behind some of the best lines of dialogue ever written…
"And it's not because I'm lonely, and it's not because it's New Year's Eve. I came here tonight because when you realize you want to spend the rest of your life with somebody, you want the rest of your life to start as soon as possible." [from When Harry Met Sally]
"When you finally have the pleasure of saying the things you mean to say, at the moment you mean to say it, remorse inevitably follows." [from You've Got Mail]
"Destiny is something that we've invented because we can't stand the fact that everything that happens is accidental." [from Sleepless in Seattle]
There's no possible pop-culture regret here: Nora/h is as solid as they come. And it doesn't hurt the name is just plain sweet and cute — and popular without being too popular.