Michael Cera Just Confirmed Secret Baby — Six Months After Becoming a Dad
The notoriously private actor was "outed" by Amy Schumer.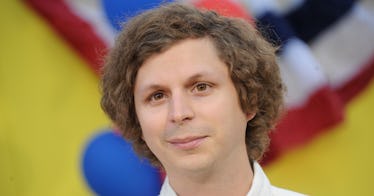 Gregg DeGuire/WireImage / Getty Images
There are some celebrities who share their public life freely with the world. Reality stars make their whole career around it. But there are other celebrities who, despite being Hollywood stars, prefer to stay out of the spotlight unless it's to promote their work. Which is how Michael Cera operates – until he was recently sort of forced to share some news.
Michael, as an actor, is really good at making us laugh. He has a fun quirkiness about him that worked to his advantage as his popularity grew due to several high-profile roles. His characters in Arrested Development, Superbad, Scott Pilgrim, and Nick and Norah's Infinite Playlist all had those similar quirks and it solidified his name as a comedic actor to watch.
But while his work popularity grew, Michael has always kept his private life very much to himself. He's married, reportedly since it's not been confirmed. But his wife's last name isn't even known. And apparently, he had a baby recently which came to be known in a sort of hilarious way.
Michael just wrapped up a movie Life & Beth with co-star Amy Schumer and during a promotional interview Any spoke about the lessons she has for her baby, 2-year-old Gene. Then Amy said, "Michael has a baby, too. Is that public knowledge? … I just outed him. I just outed his baby," ET reports.
"We're right at the beginning of it," Michael responded. "We're doing the very basics right now." But he didn't say much more after that at that time, until the next joint interview with Amy over their upcoming movie.
Michael confirmed he did have a baby – six months ago. "He's just a little 6-month-old baby," he shared. "Actually, watching Amy's documentary, I was just shocked to watch it. Like, I already had a very strong appreciation… of what women go through, but, you know, you can only have a distant outsider, you know, appreciation for it," he added.
Chances are we're not going to hear much more than that until his son's old enough to start making his own movies. Congrats, Michael, and welcome to parenthood.
Life & Beth premieres March 18 on Hulu.